KIK App Login.
Everything you need to know about the KIK Messenger. Learn how to login to KIK online with a PC or with the App, how to find KIK usernames, and reset your password.
Note: This article is about the KIK Messenger app. If you are login for the German KIK.de online shop, then visit: https://www.kik.de/, and click on the 'Person' icon in the top left corner.
About KIK Messenger.
Kik Messenger, often shortened to Kik, is a free instant messaging app for mobile phones. On it, users register a username and can then use the service to send messages, images, videos and other media. One of the key benefits of Kik over similar applications is its focus on anonymity, as users are not required to provide their phone number.
At present, the app is available for all mobile phones running either the Android, iOS or Windows Phone operating systems. The service, which uses either a user's mobile data plan or Wi-Fi internet access to send messages, is believed to have somewhere in the region of 300 million registered users worldwide.
How Do I Log In to My KIK Account?
Kik is intended to be used as a mobile app, so in order to sign up and log in, the easiest way is to download the app on Android, iOS or Windows Phone. Alternatively, however, you can download an Android emulator for your PC and download the app through the Google Play Store, in order to use Kik on a desktop or laptop. There is now an official online login page for PC's or Laptops, but please be aware of 'fake' login pages! The correct KIK login page can be found at https://www.kik.com/login.
To login with the KIK app, simply download the app, open the app, and either create an account, if you are a new user or click on 'Log In'.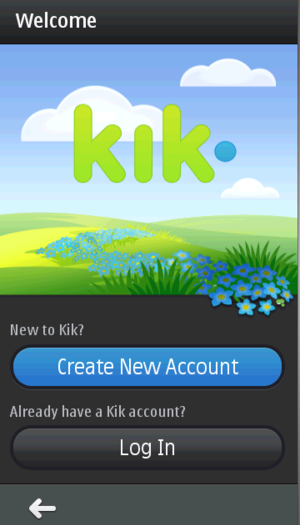 How to log in to KIK online from a PC or Laptop.
It is possible to run the KIK messenger app via the Bluestacks App Emulator. The whole process, setup and installation will take approximately 20 minutes.
It is worth noting that in order to use the service on a PC through an Android emulator, you will need to create a Google account to find and download one in the Google Play Store. To avoid this, you can download the Kik online APK file. If you go down this route, you must take great care to download from a reputable source.
Regardless of the method you choose, you will need to launch the Kik online app and create an account before you can sign in. To do this, click on 'Register' and follow the instructions for creating an account. You will need to provide a username, password, your name, an email address and your date of birth.
Once you have created an account, the Kik login process is straight forward. Simply launch the app on your phone or computer, click on the 'Login' button and enter the username and password you chose during the sign up stage into the respective fields. Then, click 'Login' and you should now have access to your Kik account.
Alternatively, KIK has recently introduced a dedicated login page, which can be found at: https://www.kik.com/login.
How to install and use the KIK App on your PC with Bluestacks.
Watch this video if you are still in doubt about how to run KIK on a laptop or desktop.
I Cannot Login to My Kik Messenger Account. What Could Be the Problem?
If you are having difficulty logging in to Kik, there are a number of common explanations. The most obvious thing to check is that you are definitely entering the right information, paying careful attention to typing errors. Passwords are also case sensitive, so make sure you are using the right case and CAPS LOCK is turned off.
Another frequent issue is forgotten Kik usernames, although this actually has a simple solution, as you can use the email address you signed up with instead. Alternatively, if you check your emails and find the account confirmation email from Kik, your username will be contained within it.
Similarly, users may also forget their password. This is especially understandable given the need to have passwords for so many different websites and online services. Thankfully, Kik has a password reset feature. Simply use the password reset feature, or click here and enter your username. A new password will then be sent via email.
If you need to reset your password, the password sent to you will be generated by the Kik service, allowing you to regain access to your account. Once you are back in, you can change this password to something a bit more memorable from within the account settings section.
Users who continue to experience problems signing in despite entering the correct login credentials should try updating to the latest version of the Kik app. If this does not work, try a password reset or try logging in with your email address instead and see if this resolves the problem.
Occasionally, the Kik service may undergo maintenance or experience server problems and this can temporarily make it difficult or impossible to log in. Usually, the only option here is to wait and try again later. If all other options have failed, it is possible your account has been deleted for violation of the terms of service.
Where Can I Download the Kik Messenger App?
The Kik mobile app is currently available for Android, iOS and Windows Phone. Therefore, the best place to download the app is by going to the Google Play Store, Apple App Store or Windows Phone Store, respectively. Simply use the search bar to search for "Kik", and install the app in the usual way.
Alternatively, by clicking here, users can enter their mobile number and receive a direct link to the app.
There Seem to Be a Lot of 'Fake' Kik Websites. Which is the Official Website?
Unfortunately, there are a number of illegitimate Kik websites and users need to take care to stick to trusted sources. The official website is: https://www.kik.com.
Both https://kik.co/download and https://kikinteractive.zendesk.com are also legitimate and safe to use.
On the other hand, users should never enter their login credentials on any of the following sites:
Fake KIK Login Pages.
https://kikusernames.com/login
http://kikcontacts.com/User/Login
http://konlinefriends.com
https://kikboys.com/list/gender/Female
https://kikfriender.com/find/kik-usernames
https://kickfinders.com/list/female
https://www.kikbase.com/kik
There is no authentic way of gaining access to your Kik account through a PC, other than through an app emulator like Bluestacks. Therefore, as a general rule, you should avoid any website claiming to offer you the ability to access your account in this way.
Leave a comment about the KIK app in the comment section.
Click to Rate This Company!