How to Delete My POF Account.
If you have had enough of the Plenty of Fish website, then deleting your account is thankfully easy and straightforward.
There are many reasons why people opt to delete or close their POF account. Some may have found a partner and don't need the service anymore. Several members have also voiced their dissatisfaction with POF's contant attempt to make them upgrade to a paying account.
Others are concerned about account security, spam and about profiles or profile photos showing up in search engine indexes.
Whatever your reason, deletion of your POF profile is easy and only requires a few clicks:
How to Permanently Delete your POF account.
STEP 1: Log into your POF account.
STEP 2: Click on the "Help" button at the very top of the screen.
STEP 3: Choose 'Remove Profile' from the list of choices on the left side of the screen.
STEP 4: On the account deletion page, find the line that says: 'To delete your account CLICK HERE'. Click on the link and follow the on-screen instructions to close your Plenty of Fish account.
Please be aware, that when you delete your POF profile, you cannot reactivate it.
The direct link to POF's account deletion page is here.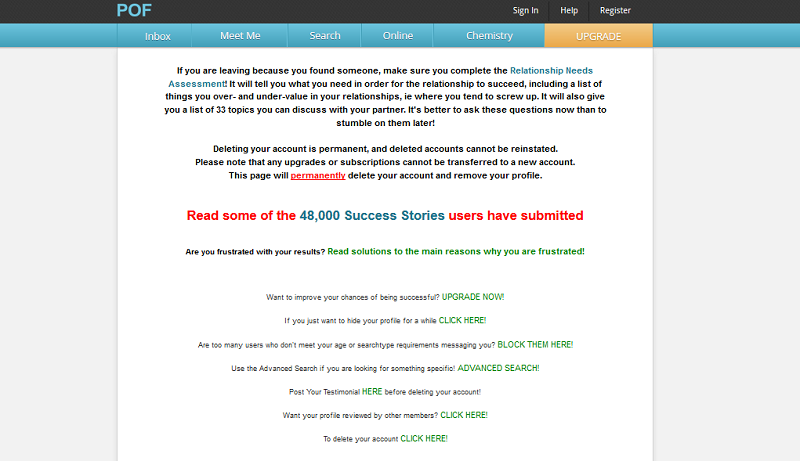 How to deactivate your POF account.
You also have the option to deactivate or in fact "hide" your POF profile form others. This is how you deactive your POF account:
STEP 1: Log in to your POF account.
STEP 2: Click on the 'Help' tab at the top of the screen.
STEP 3: Find the 'Hide Profile' option on the left-side and click on it.
STEP 4: Go to 'Edit Profile' and click on the option "To hide your profile from others, click here."
To reactivate your account, go to Edit Profile and 'unhide' your account again.
When you 'Hide' your profile, you won't appear in the top bar search results, but users on your favorites list and users who have sent you inbox messages will still be able to see your profile. Your profile can also be found with the 'Username Search' function.
Click to Rate This Company!