Time Warner Cable Email Login.
Log in with your Time Warner Cable's email address, or for register for the TWC email service. Learn about the most common sign in problems for TWC's webmail and online accounts.
About Time Warner Cable and TWC Mail.
Time Warner Cable is a former telecommunications company, established in 1992, which was one of the largest companies of its type in the world, in terms of revenue. The company specialised in cable television and internet services. In 2016, Time Warner Cable was purchased by Charter Communications and re-branded as Spectrum.
One of the company's offerings, which continues to operate under the Spectrum brand, is TWC Mail. This email service was automatically provided to Time Warner Cable internet customers and is now allocated to Spectrum internet customers. Customers are provided with 5GB of storage space and the option to set up sub-accounts.
How to Register For a Time Warner Email Account.
In order to register for a Time Warner email account, you will need to be a Spectrum customer, or a customer originating from either Charter Communications, Time Warner Cable or Bright House Networks, which now operate under the same umbrella. You will also need to sign into your online account, by clicking here.
Those who already have a username can sign in from that page by entering their username and password in the relevant fields and then clicking the 'Sign In' button. You may also need to enter a security code, which will be displayed on the screen, in order to prove you are a human and not a bot.
Customers who do not have an existing online account can register for one by clicking the 'Create Username' link on the right hand side instead. To create a username, you will need to verify your customer account by entering personal information, such as your ZIP or postal code. Then, simply follow the on-screen instructions.
Once you have registered and have signed in to 'My Account', click on the 'My Internet' tab. Under the section labelled 'Email', click on the 'Create Email Address' option and follow the instructions to set up a new email address. Additional email accounts can then be set up from within the 'Subscriber Self Care' tab.
How do I Log In to my Time Warner Email Account (TWC Mail) or Time Warner Cable Account?
For both Time Warner Cable login and Time Warner email login needs, customers are now advised to visit the merged Spectrum website ( www.spectrum.net ) and sign in through the 'My Account' feature.
An alternative Time Warner email (TWC) login screen can be found by clicking here.
To access your account, simply enter your username or TWC ID and the password associated with it, then click on the 'Sign In' button underneath, completing any security questions that may also be encountered along the way.
From within your account, you can access email by going to the 'Internet' tab. Your account will also allow you to view or pay your bill, manage subscriptions, view cable TV listings, look at your call history, view internet usage information, control various phone settings and either view or reschedule upcoming appointments.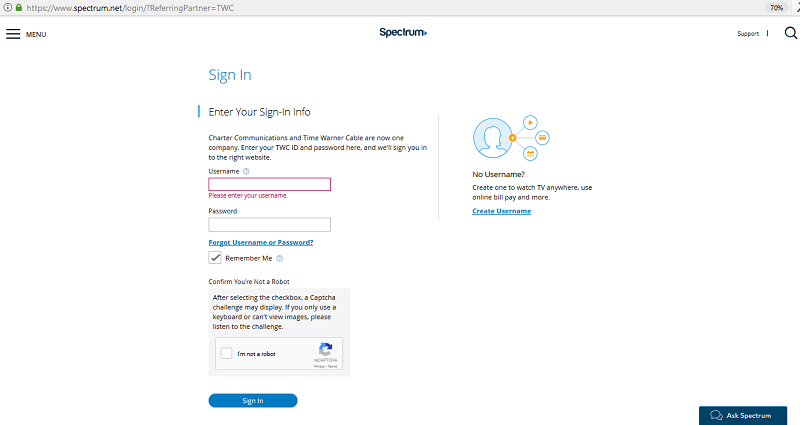 Common Time Warner Login Problems.
From time to time, users may experience Time Warner Cable login problems, although most issues have a simple explanation and are easily resolved. The most basic problem involves inputting incorrect login information, so take care when entering your username or TWC ID and your password, paying attention to any typing errors.
It is worth noting that login credentials for the Time Warner and Spectrum services are case sensitive, so you should make sure you are using upper and lower case letters in the correct places. Check to make sure both the CAPS LOCK and NUM LOCK are turned off on your computer's keyboard as well.
Forgotten usernames or passwords are another problem with a simple solution. From the main login form, click on the link underneath, which says 'Forgot Username or Password?' and then follow the instructions. You will need to provide personal information, such as your ZIP code, and you will need to verify the request via text or email.
Occasionally, the service may go down temporarily due to maintenance work, or if the servers experience issues with the level of demand. However, such instances are rare and will usually be resolved quickly. With this, all you will need to do is wait a few minutes and then try to log in again.
In the event that you continue to experience more long-term issues, even when entering the correct login credentials, you may need to clear your web browser's cookies, cache and history. If this fails to fix the problem, see if you are able to login using a different web browser, or with a different device, like a phone or tablet.
Users who continue to have difficulties signing in can contact the company's social media team, who will then be able to investigate in more detail. The email address to contact is: [email protected].
Please share your complaints, praise and experiences with Time Warner Cable, in the comment section.
Click to Rate This Company!