Verizon Email Login.
Log in to your Verizon Webmail account to retrieve and send emails from your PC or mobile phone.
Full Sign In and Registration guide, plus solutions to common Verizon Email login problems.
About Verizon Webmail.
The Verizon Email service is a free webmail service offered by Verizon Communications, one of the largest telecommunications companies in the world. The company itself provides cable television, digital television, broadband and fixed line internet services and Verizon's email service is offered to its internet subscribers.
Early in 2017, Verizon Communications announced they were getting out of the email business and effectively closed the service down. However, it is still possible to utilise existing Verizon webmail accounts, as customers have been given the option of retaining their address and migrating to AOL Mail.
Why Do I Have to Move From Verizon Mail to AOL Mail?
Verizon Communications made the decision to leave the email business in 2017, citing other superior email offerings on the market and a desire to focus on providing its core internet and television services. With that being said, the company knew that many of its customers would want to retain their existing email address.
As a result, Verizon came to a compromise, where existing Verizon Mail customers will be given two options: To retain their current Verizon webmail address and migrate to AOL Mail, or to download their emails, address book and calendar information and transfer it to another email provider of their choice.
It should be noted that customers with multiple Verizon webmail addresses will need to make the decision on each individual account. Verizon Communications purchased AOL in 2015, so the migration to AOL Mail means that the new service provider still ultimately has the same parent company.
How do I to Register For a My Verizon Account?
Existing Verizon customers can create a My Verizon account, which allows you to manage your various Verizon services and access support all from the same place. To register for an account, click here. Alternatively, you can go to the Verizon homepage, click on 'Residential', then click 'Sign In/Register' at the top of the page.
Select either the 'Click Here to Get Started' or 'Register' options and complete the form that follows. In order to verify that you are a current Verizon customer, you will need to provide either your telephone number, your email address, your order number, or your account number, as well as your ZIP or postal code.
Once you have done this, click 'Continue' and complete the remainder of the sign up process, entering your personal details and following the instructions provided on screen.
How do I to Log In to my Verizon Email Account?
Verizon email users can still sign in to their account using the main Verizon Webmail login page, which can be found here. From that screen, simply enter your User ID and password and then click the 'Sign In' button underneath.
The options for either keeping your Verizon address and migrating to AOL Mail, or downloading your emails, contacts and calendar information for use with another provider will be found once you successfully sign in to your webmail account. These two options will be presented on an 'Email Service Notice' page.
Assuming you choose the option to retain your email address and migrate to AOL Mail, you can then access your Verizon mail account from either https://webmail.verizon.com/ or from https://mail.aol.com/.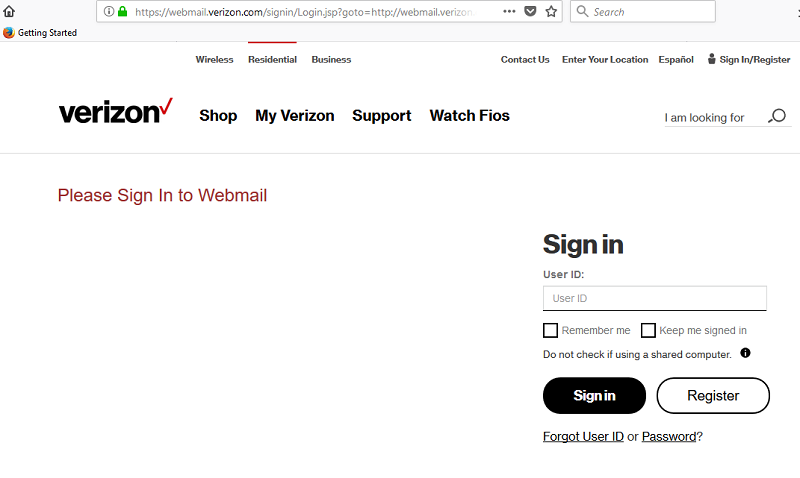 Alternative Verizon Login Pages.
If the above log in pages are not working for you, please note that other dedicated Sign In pages for other Verizon services can be found at:
My Verizon Wireless Login – https://www.verizonwireless.com/my-verizon/
Verizon Wireless US Login – https://login.verizonwireless.com/amserver/UI/Login
My Verizon Sign In (Alternative) – https://www.verizon.com/fqg/members/overview.aspx
Verizon Mobile Login – https://mobile.vzw.com/hybridClient/
Why can't I Sign In to My Verizon Email account?
It is important to stress that, if you have multiple email accounts with Verizon, each individual account will receive the 'Email Service Notice' about migrating to another email provider. The decision about what to do will, therefore, need to be made by signing into each account one-by-one and selecting your desired choice.
Remember that passwords for the email service are case sensitive, so upper and lower case letters need to be used in the right place. For this reason, it is important to make sure the CAPS LOCK feature on your computer keyboard is turned off. Underneath the main Verizon login form, there are options for users who have forgotten either their User ID or password. Simply click the relevant link and follow the on-screen instructions.
If you continue to experience issues when trying to log in, double check that you have entered your credentials correctly. If you are definitely using the right details, you could try clearing your web browser's cache, cookies and history, or signing in with a different device. Alternatively, you could try following the password reset process.
Please share your complaints and experiences with Verizon Webmail in the comment section below.
Click to Rate This Company!