Snapchat Login.
Log in to your Snapchat account from your mobile, or even from a desktop or laptop. We show you how. We have alsoi ncluded a list of frequently asked questions and solutions, such as to login problems, and what to do, if you have lost your password, and more.
About SnapChat.
Snapchat is a mobile image messaging application, which is developed by Snap Inc. and was first released in 2011. Originally centred around private, person-to-person image sharing, the service expanded to include new features, such as the sending of video messages, real-time video chat and a Live Stories function.
The key concept of the service is that multimedia messages, or 'Snaps', are temporary and can only be accessed for a certain amount of time, before self-deleting. Images and videos can be edited with the use of filters, special effects and text captions and Snaps can be sent directly to individuals, or made semi-public through the 'Stories' feature.
In this article, we will look at how to create a Snapchat account, how to login to the service, how to solve some of the most common problems, and how to delete Snapchat.
How Do I Create a Snapchat Account?
In order to create a Snapchat account, you must first download the app to your mobile device. From there, launch the app and click on 'Sign Up'. On the next page, you will be asked to provide your real name. Enter your 'First Name' and 'Last Name' in the appropriate fields and click 'Sign Up' again.
Next, you will need to enter your date of birth. Click 'Continue' and you will be asked to come up with a username. After that, you will have to supply a password, which must be at least eight characters long. Finally, you will need to provide a valid email address and click 'Continue' again to complete the sign up process.
How Do I Log In to My Snapchat Account?
After you have created an account, the Snapchat login process is simple. Launch the app on your mobile device and enter the username and password you chose during the sign up stage. For security purposes, you may also have to enter a reCAPTCHA code to prove you are a real person. Then, click 'Log In' to gain access to your account.
You can also log in to your Snapchat account on a PC by visiting http://accounts.snapchat.com from your PC or laptop browser. This will allow you to access the Snapchat web services. Through here, you can change your password, download your own 'Snapcode', or delete your Snapchat account.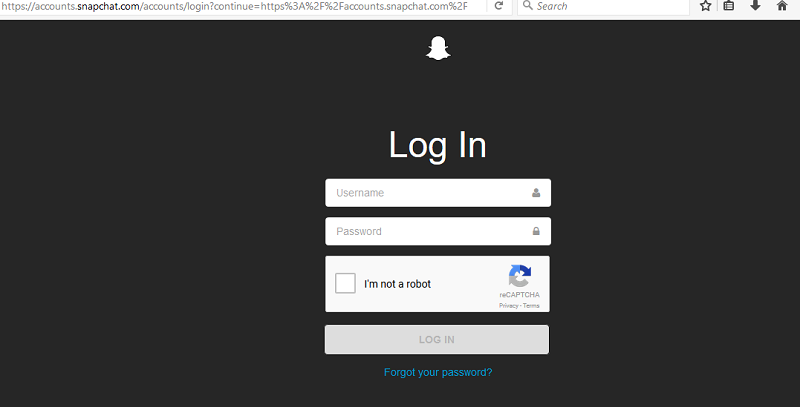 Using an Android Emulator to use Snapchap on your laptop.
This is how you use the Snapchat App on aWindows PC or laptop: First install Bluestacks on Windows. Getting Bluestacks to work on your computer is very simple, just download the installation file form Bluestacks website and run the installe. Then, download the Snapchat app to run on the Bluestacks Emulator platform.
I Have Forgotten My Snapchat Password. How Can I Reset It?
A forgotten password is the most obvious login issue that may be encountered by Snapchat users, especially in an age where so many different services require passwords. Fortunately, if you do forget your password, there is a way to regain access to your account.
From the login page, click on 'Forgot Your Password?' and follow the instructions provided. This will reset your password, with a new password being sent to you. Log in using this password to gain access to your account, and you will then be able change your password to one of your choice from within the account settings.
Where Can I Download the Snapchat App?
At present, Snapchat is available for mobile devices running either the Android or iOS operating systems and can be downloaded from the Google Play Store and the Apple Store. In order to find it, simply launch the store, use the search tab to look for 'Snapchat', click on the Snapchat app and click either 'Get' or 'Install'.
You can also find direct links to download the mobile apps on either Android and iOS here.
If you are looking to delete your Snapchat account then please visit our How to Delete Snapchat page.
Click to Rate This Company!