LiteBlue USPS Login.
The Liteblue.Usps.gov websits can be used for managing work schedules, taking routes, benefits, payroll/payslips, contact details and more. The newly updated Usps Liteblue portal is now an essential tool for all Usps Employees. If you are new Usps employee, you will need to register a SSP profile before you can access Liteblue.
Registering at LiteBlue.Usps.Gov.
How Do I Log In to My LiteBlue.Usps.gov Employee Account?
You must know your USPS Employee ID and USPS Self Service Profile (SSP) Password to log in to Usps Liteblue.
New USPS employees will have to set up a SSP password first.
To register a SSP profile, please visit www.ssp.usps.gov to reset your temporary USPS password to a permanent password of your choice.
Click on Enter and type in your temporary SSP password and Usps Employee ID (EID), then click on 'Sign In'.
Remember, the Self Service Profile (SSP) Password (strong password) is used for USPS online HR applications, like eIdeas, eOPF, eReassign, PostalEASE, and Liteblue USPS. The SSP Password in not the same as your ACE Password.
Newly hired employees will receive a letter with a temporary password for SSP. The temporary SSP password cannot be used to sign in to Liteblue. You need to change the temporary password to a permanent password of your choosing. The SSP application will take new employees through the steps after logging in your temporary password.
Liteblue USPS Login.
How do I Login to my account at Liteblue.Usps.Gov?
Visit the LiteBlue homepage.
Enter your personal USPS Employee ID in the 1st field, followed by your USPS Self Service Password in the 2nd field.
Click the "Log On" tab.
Screenshot: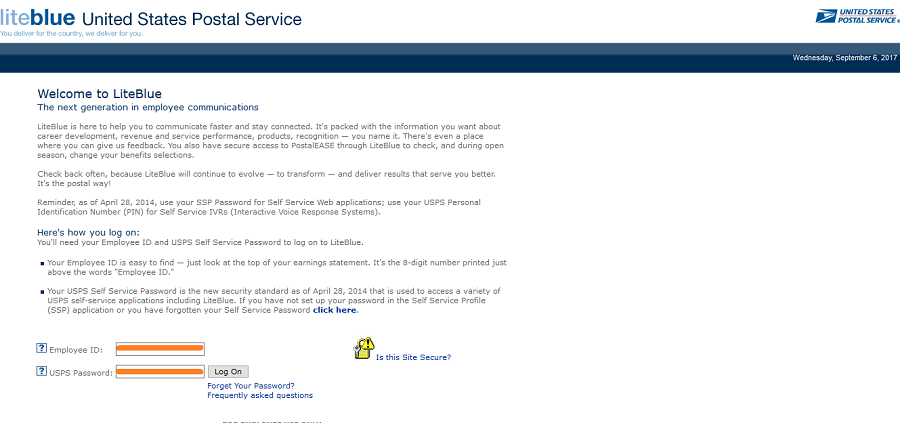 Liteblue Login Help.
Check the following:
Your internet connection is working.
Your CAPS LOCK key is OFF.
Sign in, paying attention to Case Sensitive characters.
Sign in with another internet browser.
Sign in from another computer or device.
Clear your internet cache and cookies and try logging in again.
Liteblue HR Department Contacts.
The Liteblue Human Releations phone number is 1-877-477-3273.
Available from Monday to Friday, between 7 am ET and 8:30 pm ET.
Click to Rate This Company!