Earthlink Webmail Login.
Log in to the Earthlink Webmail service from a PC or mobile. Learn how to register and sign in to your Earthlink Email account, and view see solutions for common login problems.
What is Earthlink Webmail?
Earthlink Webmail is a free webmail service, which is available to customers of Earthlink; an internet service provider and communications company based in Atlanta, Georgia in the United States. The company was founded in 1994, provides various IT services and has around one million internet customers.
The company's webmail offering provides users with 100MB of space per account, includes built-in protection against viruses and has a number of other standard email features, such as a spam folder and an address book.
How do I sign up For an Earthlink.net Webmail Account?
Earthlink's Webmail service is only available to existing Earthlink customers. However, most of the company's access plans come with the ability to create up to eight separate accounts, ensuring each individual member of a household has their own personal email address to utilise.
The process for registering a new account is fairly straight forward and can be carried out by going to the main website ( www.earthlink.net ) and heading to the 'My Account' section. Alternatively, you can find it here.
Sign in using the primary account holder's login credentials. To do this, you will need to enter your primary account holder email address or Earthlink ID into the top field and type your password in the second field. Then, click on the 'Sign In' button to gain access to the account.
From there, go to the 'Email Profiles' section, which can be found at the top of the page, and click on 'Add a New Email Profile'. Select a username and password for the new account and fill in all of the other information, as requested. Then, click on 'Add Email Profile' to complete this process and create the new account.
You can then repeat this same process to create any additional email accounts you require.
It is worth noting that usernames are limited to 16 characters and may only include letters and numbers. Passwords, on the other hand, need to be between six and eight characters in length. Both your username and password are case sensitive, so if you use different cases, make sure you can remember which letters are upper case.
How do I Log In to my My.Earthlink.net Webmail Account?
Once you have created an Earthlink email account, you can log in to it from the 'My Account' section on the main homepage (www.earthlink.net) or by clicking here, for the mobile phone optimized login page. 
Alternatively, you can also find the email login form here.
Earthlink Hosting customers can log in to their Web Mail account here.
To sign in to your account, simply enter your email address in full, including the @earthlink.net suffix, then enter the password associated with your account. If you are not using a shared computer and want to make signing in a quicker process next time, you can check the box marked 'Remember My Username On This Computer'.
Then, simply click on the 'Sign In' button and assuming there are no issues with the login credentials you provided, you should now have access your email account.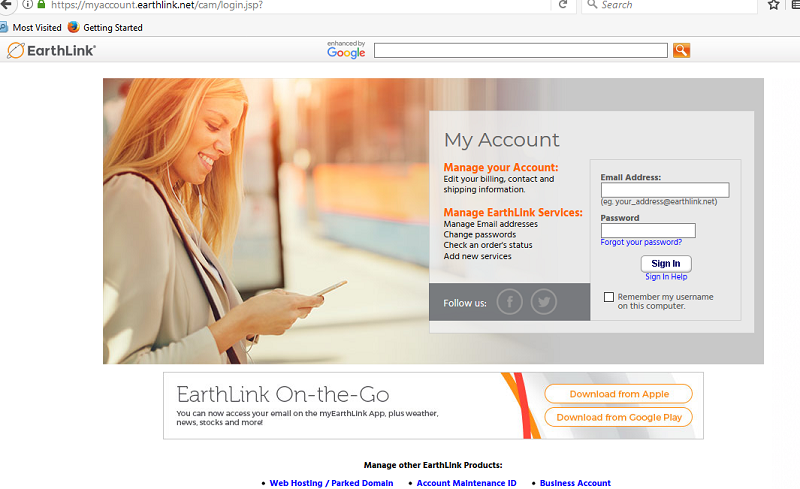 Common Earthlink Webmail Login Problems.
Occasionally, users may run into problems when attempting to access their Earthlink email account. However, in the vast majority of cases, these issues can be resolved fairly easily, by running through the following list of common problems to identify the issue and then following the relevant instructions.
Typing errors are by far the most common login problem, so double check that you have definitely entered the right email address and password combination, without any errors. You should also make sure the CAPS LOCK and NUM LOCK are both turned off on your keyboard and that you are using upper and lower case letters in the right place.
Another common problem is forgotten passwords, but this also has a simple solution. From the main login form, click on the linked marked 'Forgot Your Password?' and enter your email address on the page that appears. After clicking 'Continue', you will need to provide proof of ID, such as a credit card number, or an answer to a security question. After going through the process, you will then be able to choose a new password.
If you continue to experience problems signing in, and you are sure you are entering the right email address and password combination, you may need to clear your web browser's cache, cookies and history. Then, restart the browser and try again. If the problem is still not resolved, try another browser, or a different device.
From time to time, the servers may go down, either for scheduled maintenance, or if they are overloaded. This will usually result in just a short period of downtime, but the only real solution is to try signing in again later on.
Download the Earthlink App.
The MyEarthLink app is available for both Android and iOS mobile phone devices!
This MyEarthlink app makes is easier for users to access all emails and information though their mobile devices.
You can download the free app from the Google Play store or iTunes store now, by searching my "MyEarthlink".
Please share your experiences with Earthlink Webmail, below.
Click to Rate This Company!