Instagram Login.
Logging in to your Instagram account is a fairly easy. Learn how to sign in from your laptop or your mobile phone, how to solve common login problems, how to create an Instagram account and what to do if you have lost your password.
About Instagram.
Instagram is a popular photo-sharing platform, which allows its users to share images and videos either publicly or privately. Initially created by Kevin Systrom and Mike Krieger, it was launched as an exclusive app for the iOS operating system, it has since expanded to include support for Android, Windows Mobile and desktop computers.
The service enables its users to upload photographs, or other images and apply digital filters to them. A 'Stories' feature also allows self-deleting photos or live video to be uploaded. At present, the platform has over 700 million registered users worldwide. Since 2012, Instagram has been owned by Facebook.
How Do I Create An Instagram Account?
Creating a new Instagram account is a quick and easy process.
Sign Up with the Instagram App.
Download the Instagram app first. From within the Instagram mobile app, press 'Sign Up', enter a valid email address or mobile number, and then tap 'Next'. You will then be asked to create an Instagram username and password, and enter some basic profile information about yourself. Once you have completed this, simply press 'Done' to finish the sign up process.
Alternatively, if you have an active Facebook account, you can press 'Sign Up' and then click on 'Log In With Facebook'. You will then be asked to log in to your Facebook account. After doing so, your account will be created, using the information from your Facebook account and the two accounts will become linked.
Create an Instagram account from a computer.
It is also possible to sign up from a desktop computer, or from a mobile web browser. To do this, simply visit: http://www.instagram.com and you will see a sign up form. Here, you will be asked to provide an email address or mobile number, your name, and your chosen Instagram username and a password. Then click on 'Sign Up'.
Again, as with the mobile app, there is also an option to sign up through your Facebook account. Simply click on the blue 'Log In With Facebook' button on the homepage and enter your Facebook login credentials.
The official Instagram Sign Up page can be seen here.
How Do I Log In to My Instagram Account?
Once you have created an account, the Instagram login process is straight forward. For mobile app users, simply launch the Instagram app and you will be greeted with a login screen. Here, all you need to do is enter the username and password you chose during the sign up stage and then tap 'Log In'.
You will also find a 'Log In With Facebook' option underneath, for those who opted to register their account that way. Press on this option, then enter your Facebook login credentials to gain access.
From the Instagram website, the sign in process is very similar. Above the registration boxes, you will see the 'Log In With Facebook' option. Underneath the registration box on the homepage, you will see an option that says 'Have An Account? Log In'. Use the relevant option and then enter your Facebook or Instagram login details.
The official Instagram logine page can be found https://www.instagram.com/accounts/login/here.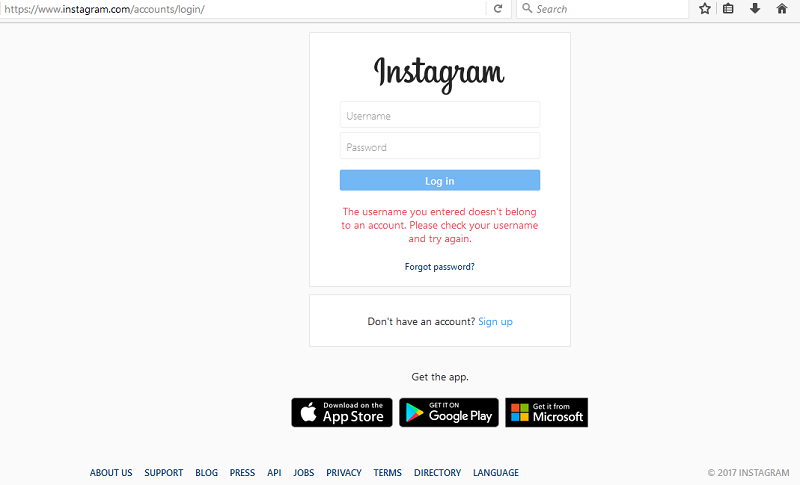 Common Login Problems. Why Can I Not Log In to Instagram?
If you are experiencing problems logging in with Instagram, the most obvious thing to check is that you have definitely entered your credentials properly. Look out for any typing errors and remember that your password is case sensitive. If you are logging in from a computer, make sure CAPS LOCK and NUM LOCK are turned off.
Forgotten passwords are another common problem, but fortunately Instagram has a system in place for resetting passwords. From the app, tap on 'Get Help Signing In', which is underneath the 'Log In' button. On the website, click on 'Forgot Password', which is found in the same place. From there, you will be able to reset your password. The new password will be sent to the email address associated with your Instagram account.
It is worth noting that on very rare occasions, maintenance work or server issues could result in difficulty logging in. When this occurs, the only real option is to try again later on.
Users who violate the community guidelines or terms of service may find that their account becomes disabled. When this has transpired, a message will be displayed after a login attempt, explaining the situation. If you think there was a mistake, you can appeal against the decision by following the on-screen instructions.
Where Can I Download the Instagram App?
The Instagram mobile app is currently available for both the Android and iOS operating systems and can be found from the Google Play Store and App Store, respectively. Simply launch the store on your mobile or tablet device, search for 'Instagram' in the search bar, click on the Instagram app and follow the usual installation procedures.
You can also find direct links to download the app from the Instagram homepage at: http://www.instagram.com.
If you wish to delete an existing Instagram account , please visit our page on How to delete Instagram
Click to Rate This Company!