The Kik Messenger App.
Download the KIK Messenger app for Android and Iphones. Learn about the app's functionality and why this chat app has become so popular.
What is the Kik Messenger?
Kik Messenger is a free messaging and chat app, developed by the Canadian company Kik Interactive. The mobile phone app can be downloaded for free for iOS, Android, and Windows Phone operating systems. The app needs a wifi connection or a phone data-plan in order to send and receive messages, photos and videos.
In 2017, Kik Messenger had approximately 300 million registered users, and the app is used by 40% of US teens.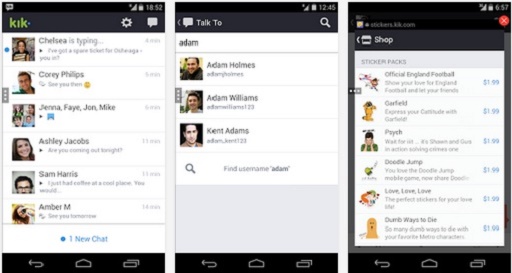 Why Kik Messenger is different.
KIK differs from other chat apps, like Snap Chat, in that you can:
Register without providing a telephone number. To register for the Kik messenger service, a new user must enter a first and last name, an e-mail address, and a birth date, and then select a username. That is all. The user has the option to enter a phone number, but it is not necessary.
Kik users can also delete and create new usernames as often as they want.
Kik is famous for its settings, that allow 'dirty' talk, if enabled. This means that the app has become notorious for sharing adult, anonymous content and photos.
Kik text conversations are stored in the users' mobile devices only, and the Kik company does not have access to the text information, even if Police requests it.
Users can use Kik without a mobile SIM card, which means that you can use the app on tablets, too.
The app is also known for its many uses of automated bot software. Automated chat bots, help bots and product bots are all available within the Kik eco-system.
Where can I download the KIK Messenger App?
The Kik app can be downloaded for Android, iOS and Windows Phones. The file is small and installation is fast and easy.the best place to download the app is by going to the Google Play Store, Apple App Store or Windows Phone Store, respectively. Simply use the search bar to search for "Kik", and install the app in the usual way.
You can download the KIK app here:
You can also download the app from KIK's official download page.
Click to Rate This Company!