Google Flights.
How do I use the Google Flights Search function and are there any "tricks" for getting cheaper flights? And how does Google Flights compare to other airline tickes websites like Momondo, Kayak, Skyscanner and Expedia?
Get the answers here.
About Google Flights.
Launched in 2011, Google Flights ( http://www.google.com/flights ) is an online flight booking service, allowing customers to search for commercial airline tickets, compare prices and ultimately purchase flights. The service is owned by Google, Inc. and was launched after the company acquired ITA Software and its algorithms.
Google's Flights platform is not strictly an online travel agency, instead acting as a type of search engine for third-party ticket suppliers. The Flights service is currently available in more than 20 different countries, including the United States, United Kingdom, Australia, France, Germany, India and Mexico.
How to Use the Flights Search Function.
The most basic way to make use of the Flights service is to use its default search function and this is a relatively straight-forward process, which can be carried out from the service homepage ( http://www.google.com/flights ).
On the page, you will see four main boxes near the top, which are for your origin location (top left), destination (top right), departure date (bottom left) and return flight date (bottom right). The first step is simply to enter your origin and destination. If Google's location services are switched on, your location may already be entered.
After your origin and destination are entered, you will already start to see options pop up related to the default dates. However, you will most likely want to adjust your departure and return dates. When you do so, a calendar will pop up, showing prices underneath each date. If you are flexible about when you fly, you can use this feature to find the cheapest available price, as there can be a big difference from one day to the next.
Once you have selected your dates, the full list of results will be displayed under the search boxes. Google will automatically pick out the cheapest price and the price for this will be highlighted in green. In most cases, a few other 'Best Flights' options will also be displayed in a box and this is designed to highlight the flights Google's algorithms have picked out, based on a combination of price, duration, number of stops, etc.
Additionally, a 'Tips' box sometimes also appears in the search results. This will typically highlight options that will allow you to save money, such as flying a day earlier or a day later than the dates you specified. The remainder of the results will be displayed below the 'Best Flights' box, so be sure to check those out before booking.
Underneath the dates boxes, you will find a few more advanced options for sorting the list of flights. For instance, you can sort based on the number of stops, the price, the airline, or by the duration of the flight. Moreover, you can choose to include or exclude specific connecting airports from your journey.
To book a flight, simply click on the option that appeals to you. At this stage, if you are planning a round trip, you can also select a return flight from the options displayed. You will then have the option of buying tickets through various third-party sites, or tracking the flights, which will send you alerts for price changes.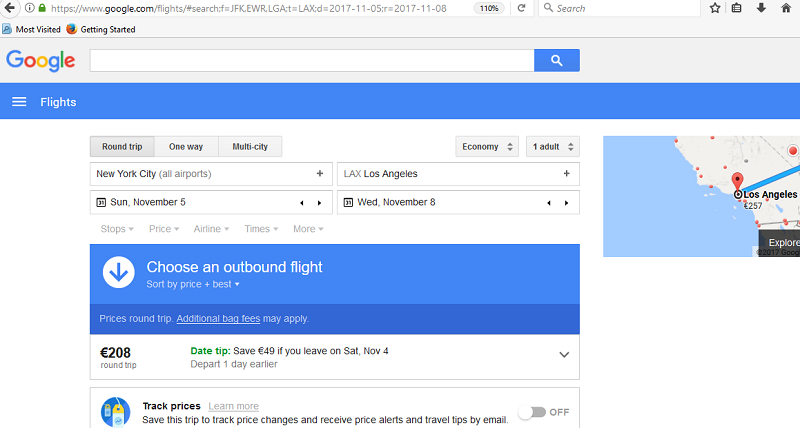 Tips and Tricks For Using the Google Flights Service.
Generally speaking, Google Flights is easy to use and will allow you to book the flights you want without too much hassle. With that being said, there are some tricks you can use to make sure you get the very best deal on your tickets, or find the flights that best suit your needs. Below, we present five top tips:
1. If price is your main consideration, be sure to check the prices listed beneath the 'Best Flights' box before booking your journey. The 'Best Flights' box is based on a complex algorithm, which factors in more than the price alone. Therefore, the cheapest option may not actually be listed in the 'Best Flights' section.
2. Use the 'Discover Destinations' function if you are unsure where to travel to. Located underneath the main search boxes, this allows you to select chosen dates, interests (food, culture, winter sports, beaches, honeymoon, etc.) and broad areas you are interested in. It will then present you with a list of flights that best fit your selections.
3. Take advantage of the price track feature. If you have a journey in mind, but don't need to book it immediately, track the flights you want and wait to see if the price lowers over time. One of the best things about this feature is it also alerts you to any expected price rises in advance, giving you time to book at the current price.
4. Experiment with the advanced options. The cheapest flight may not always be the best flight for your personal circumstances. Use the various sorting tools to reduce the list of flights to those that meet your criteria. If you don't want to have to switch planes, sort by the number of stops. If you want the fastest flight, sort by duration.
5. Look at the 'Tips' box if it appears, as this can be great for pointing out small adjustments that can save you money. If no 'Tips' option comes up, try checking the prices listed on the main calendar and seeing if the days on either side of your current selection will save you money.
Does Google Flights show you cheaper flights than like Momondo, Kayak, Skyscanner and Expedia?
Which is the best flights search engine? Opinions vary, but you should know that Southwest Airlines are excluded from showing on Google Flights. The Google Flights search engine also tend to show fewer airline choices than Kayak and Scyscanner.
In 2017, Skift.com and Telegraph.co.uk both tested the various search engines to see if there is a clear "winner". The consensus is that Kayak and Skyscanner tend to return more flight options, and are therefore often a bit cheaper.
Google Flights scored well on speed, however, so if you are doing many searches doing a day, then Google Flights might be handier for you.
Google Flights' market share is also increasing and the service is more popular among younger audiences.
Add your experiences and comments about Google Flights, below.
Click to Rate This Company!