Edmodo Login.
Login to Edmodo for teachers, students and parents. Learn how to register an Edmodo account, sign in toy our account and download the Edmodo app.
UPDATE: Edmodo's services will officially close its operations on Sept. 22. 2022. All accounts will be permanently deleted upon company closure, along with materials created within those accounts.  Users will need to manually export files from their accounts in order to hold onto any resources they don't want to lose.
What is Edmodo?
Edmodo is an online social learning network, facilitating communication between teachers, students and parents. The platform is geared towards allowing teachers to share content, distribute assignments and maintain an open dialogue with students, parents and colleagues and members can use it both in and out of the classroom.
The network, which is based in San Mateo, California, is available in a variety of languages, including English, Spanish, French, German, Chinese and Italian. It was established back in 2008 and currently boasts around 78 million users globally, with more than 30 million users in the United States alone.
How Do I Sign Up For An Edmodo Account?
For teachers, the sign up process can be carried out from the Edmodo.com homepage. Underneath where it says 'Create Your Free Account', click on the option labelled 'I'm a Teacher'. Then, on the page that appears, enter your personal details and click the button which says 'Sign Up'.
The direct link for Edmodo's Teachers Sign Up can be found here.
A confirmation email will then be sent to the email address you provided on the registration form. Go to your inbox, open this email and follow the instructions provided within it to compete the setup process. If you cannot see the email in your inbox, be sure to check your spam or junk mail folders.
Alternatively, teachers can use their Google or Office 365 accounts to sign up. After clicking on the 'I'm a Teacher' link, the option for doing this will appear alongside the main sign up form. Click on the relevant option and then sign in to either your Google or Office 365 account. Then follow the instructions.
For students, the process is slightly different, because students can only join after being invited by a teacher and obtaining a Group Code from them. Once you have been given a Group Code, go to the homepage, click on the option labelled 'I'm a Student' and fill out the registration form that appears.
On the form, students will need to provide a unique username, a password and the Group Code they were given. Unlike teachers, students are not required to provide an email address. Once the form has been completed, click the 'Sign Up' button. You may need to wait for your teacher to approve your registration.
For parents, sign up requires you to obtain a unique Parent Code, which can only be obtained from your child's account. Each student is allocated a different Parent Code. This code can be obtained from the homepage of the student's account. Once you have the code, head to the homepage and click the link labelled 'I'm a Parent'.
On the page that appears, fill in the necessary information, enter your unique Parent Code, and then click the 'Sign Up' button. A confirmation email will be sent to the email address you provide. Open the email and follow the instructions to complete the process. You will automatically observe any group your child is part of.
Parents can signing up to Edmodo using this link at Edmodo.com.
How Do I Log In to My Edmodo Account?
After an account has been created, the Edmodo login procedure is relatively straight forward, regardless of the type of account you have. Visit the homepage and then click the link in the top right hand corner, marked 'Login'. A sign in form will then appear. Enter your email address or username and your password, then click 'Login'.
If you used your Google or Office 365 account to sign up, you will also find options on the right hand side of the main sign in form to sign in with these accounts. Click on the relevant option and then enter the login credentials for the account in question to sign in and gain access to your account.
The old login page could be reached at the direct Edmodo login page at edmodo.com. This page no longer works.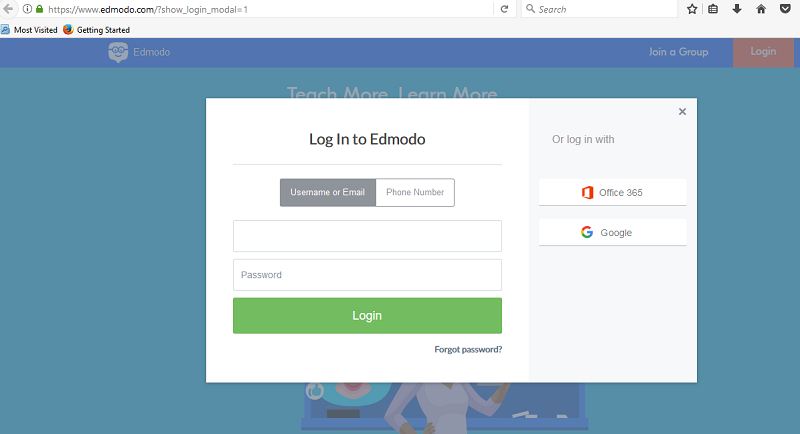 Common Login Problems. Why Can I Not Log In to Edmodo?
In the event that you are unable to log in, the most obvious explanation is that you are entering the wrong login credentials. Make sure you are entering either your full email address, or the unique username you selected. Pay careful attention to spelling and watch out for any typing errors.
Both the password and username are case sensitive, so be mindful of your use of upper case and lower case letters, and enter your username and password exactly as they were entered on the sign up form. Double check to make sure both the CAPS LOCK and NUM LOCK functions on your keyboard are turned off.
If you have forgotten your password, you can use the built-in password reset feature to regain access to your account. On the main login form, click on the link at the very bottom labelled 'Forgot Password?' and follow the instructions. You will need to enter your email address and a reset link will then be sent to you.
If you are a student, do not have an email address linked to your account and have forgotten your password, any associated teacher or parent account will be able to reset the password for you. More detailed instructions for how to do this are provided in the help pages contained within their account.
Some users may be asked for a School Code upon attempting to sign in. This means your school has signed up for the site's school or district features. In this situation, you will need to login from your school or district login page. School Codes will need to be obtained from the school administrator.
Where Can I Download the App?
For mobile users, the most convenient way to utilise the service is through the dedicated app. At present, this is available for all mobile devices running Android, iOS or Windows operating systems. It can be downloaded from the Google Play Store, the App Store or the Windows Store. Simply launch the store and search for 'Edmodo'.
Alternatively, direct links to download the app on all three operating systems can be found by clicking here.
The Edmodo App login page can be found here.
What is Edmodo's phone number and how do I contact Edmodo's customer service support?
Teachers can submit a request or question via the support form here. You must be logged in submit a question.
Alternatively, browse the extensive support and help section here.
The Edmodo headquarters can be contacted via this phone number: 1-650-513-2735.
The corporate office can elso be contacted by email with this email address: [email protected]
Edmodos Headquarters address is:
Edmodo
1200 Park Place, Suite 400.
San Mateo, CA 94403.
Please share your experiences, complaints about or questions for Edmodo, in the comment sectiob below.
Click to Rate This Company!