How to Delete a Linkedin Account.
Learn how to deactivate, reactivate or delete your Linkedin account in minutes.
If you stop using LinkedIn for networking, decide to remove your LinkedIn profile for privacy or security reasons, or no longer feel you have much use for the LinkedIn jobs section, you may wish to permanently delete your account. Thankfully, the site allows its users to achieve this without too much hassle.
How to delete your Linkedin account.
From the homepage, click on the 'Me' icon in the top right hand corner and under the 'Account' heading, select 'Settings & Privacy'.
Go to 'Subscriptions', then click on 'Change' next to 'Closing Your LinkedIn Account'.
Select a reason for closing your account, click 'Next', then re-enter your password and click on 'Close Account'.
The direct link to the account deletion page can be found here. (You must be logged in).
If you are are closing an account because you have more than one account, then be aware that it is possible to merge two accounts within Linkedin.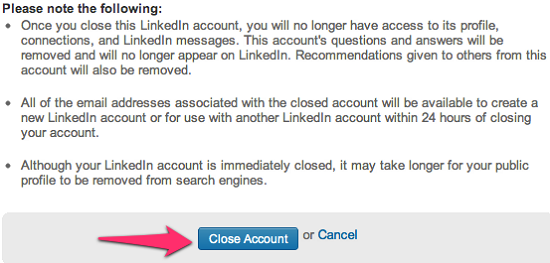 How to deactivate and reactivate your Linkedin account.
Once you have closed your account, you will have the ability to reactivate it within 20 days. To do this, simply sign in as usual and click on the 'Reactivate' button when prompted.
However, the following account information will be lost when you deactivate your account:
Endorsements and recommendations
Pending invitations
Followings
Group memberships
After the 20 day waiting period, if you did not reactivate your account, it will be permanently removed.
If you decide to permanently close your Linkedin account, then all questions and answers, information and connections will be deleted forever.
Deleting or closing an account does not mean that the account information will be deleted from search engine listings. Search engines like Google and Bing will eventually delete the account from their index when they attempt to re-crawl the profile, but there is no guarantee when, or if, they will do that.
Add any questions or comments below.
Click to Rate This Company!