Wattpad Login.
Sign in to Wattpad.com from a PC or mobile phone. Learn how to register for Wattpad, and how to solve common Wattpad login and app problems.
About Wattpad.
Launched in 2006, Wattpad is a free online writing, reading and storytelling service, which doubles as a social network. The service itself is based in Toronto, Ontario, Canada and provides writers with a platform to publish, promote and receive feedback on their writing, which can include fiction, non-fiction and poetry.
As a platform, Wattpad has enjoyed popularity among both professional and amateur writers. Moreover, it also removes many of the traditional barriers between writers and readers, meaning that non-writers can use the service to read content, interact with authors, share opinions and discuss texts with other readers.
Wattpad is available worldwide and the site accepts content submissions in more than 50 different languages. It is estimated that the service has more than 30 million active monthly users, including both readers and writers.
How Do I Register For a Wattpad Account?
In order to register for a new account, go to the Wattpad homepage ( www.wattpad.com ) and you will immediately be met with a sign up form in the middle of the page. Here, you will have the option of creating a new account with your email address, or signing up using an existing Facebook or Google account.
If you wish to create an account using your email address, enter a memorable username, your email address and your chosen password in the respective fields and click the 'Start Reading' button. From there, follow the on-page instructions to complete the process and create your new account.
Alternatively, if you would prefer to sign up using your Facebook or Twitter account, click on either the 'Continue With Facebook' or 'Continue With Google' button above the main sign up form. On the next page, you will need to sign in to your Facebook or Google account. If you are already signed in on your browser, simply click 'Continue'.
Mobile users can also sign up via the Wattpad app, which can be downloaded from either the Google Play Store or Apple App Store. Once the app has been launched, the sign up process is exactly the same as above. However, it should be noted that the option to sign up with a Google account will only be available to Android users.
How Do I Log In to My Wattpad Account?
After you have created an account, the Wattpad login process is straight forward and can be carried out from the homepage ( www.wattpad.com ). From there, click on the 'Log In' button, which can be found in the top right hand corner of the page and a box will pop up, containing the login form.
If you created your account with either Facebook or Google, click on the relevant button and follow the instructions. You will need to sign in to your account if you are not already logged in.
On the other hand, if you created a new Wattpad account using your email address, you will need to enter either your username or email address in the first field on the login form, then enter your password in the second field. Then, click the orange 'Log In' button at the bottom of the form and you should gain access to your account.
You can also access a dedicated Wattpad login page here.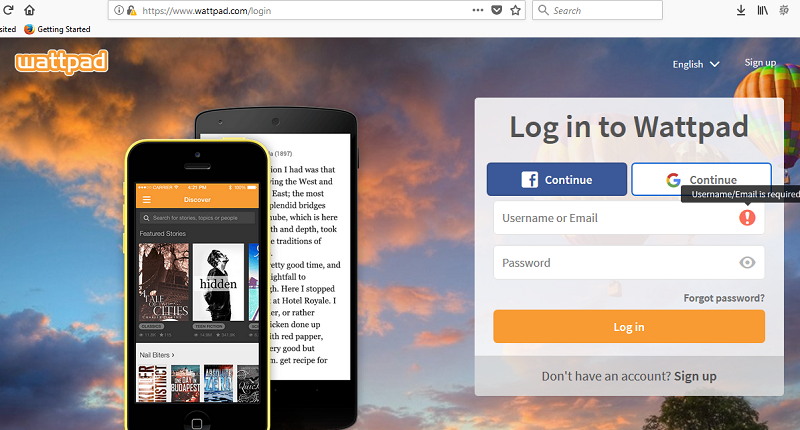 Typical Wattpad Login Problems.
In the event that you experience issues when attempting to sign in to your account, you will need to try to identify the cause of the problem. The vast majority of issues can be easily explained and resolved, although pinpointing the precise cause of the problem may require some trial and error.
The most common problem is the use of incorrect login credentials, so pay careful attention when entering your details. Remember, your password is between six and 20 characters in length and is case sensitive, so make sure CAPS LOCK is switched off. You can also click on the eye icon on the password field to display the characters.
If you have forgotten your password, you can reset it by clicking the 'Forgot Password?' link on the sign in form. You will need to enter either your username or email address and a password reset link will then be sent out to you via email. Log in to your inbox, open the email, click the link and you will be able to regain access to your account.
There is an even more simple solution if you have forgotten your username, as you can simply enter your email address in the username field instead. As long as you enter the right password, you will be able to sign in.
Occasionally, users with ad-blocking software installed on their device may experience an issue where the login box does not pop up after clicking 'Log In' on the homepage. To get around this problem, either temporarily disable your ad-blocking software, or add the Wattpad website to the list of exceptions within the software's settings.
In the event that you continue to experience problems, try clearing your web browser's cache and cookies, before restarting it and trying again. If that did not resolve the problem, you could try again using a different web browser. Alternatively, you may wish to try signing in using the mobile app, or by using a different device.
Occassionally, due to capacity problems, you will not be able to log in to Wattpad, as you will see just an error message, or you will get stuck on a loading screen. Try waiting a few hours and sign in at a quieter time.
Wattpad App Problems.
To log in to the Wattpad App, follow these steps:
Open the App
Click on "Have an account? Log in"
Type in the email/username and password
Click on "Start Reading".
To log out of the Wattpad App:
Click on the person icon on the bottom menu bar.
Click on the gear in the upper right-hand corner.
Select "Log out".
If you are experiencing problems with the Wattpad App, then try turning your wi-fi/data connection off and on again, or simply connectto another wi-fi network.
Also, try logging out, closing the app and then logging back into your account. Lastly, try uninstalling and reinstalling the app.
Please share your opinions, complaints and questions about Wattpad, below,
Click to Rate This Company!