How to Delete an eBay Account.
Learn how to close an eBay Buyer Account or an eBay Seller Account.
If you no longer use eBay, or if you wish to delete your account for any reason, you can submit a request to close your account by logging in then clicking here.
Alternatively, go to the customer support section of the eBay website, type "close account" into the search bar and follow the links to submit your request.
You will only be able to close your account if all of your fees have been paid and your account balance is zero. There may also be a minimum waiting period of 30 days after your last sale or purchase before you can close the account, in order to make sure everything has gone through and there are no outstanding fees.
After submitting your request, you will no longer be able to make purchases, although you will be able to access your account information for a while. This means your account is in the waiting period before permanent closure. During this waiting period, you can have your account reinstated by contacting customer services.
Once the waiting period has elapsed, your account will be permanently deleted and you will no longer be able to recover it. If you decide you want to use eBay again, you will need to register a new account.
You cannot reopen a closed account with the same username or with the same email address, but you can always create a new account.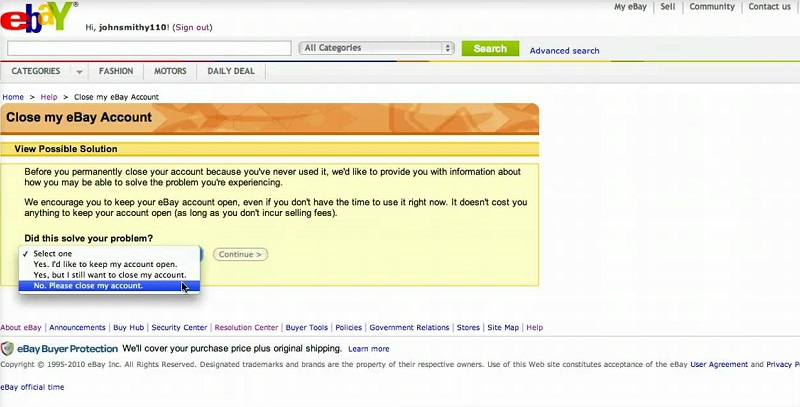 How to close an eBay Seller Account.
It is entirely possible to close or deactivate an eBay Seller account, but keeping your eBay account for buying or bidding purposing.
To deactivate a eBay seller account, you must remove your payment information for credit/debit cards or your bank account.  Select 'All payment methods', and click on the Remove button, from within your seller account.
Make sure you cancel any subscriptions, as well.
Make a payment for outstandng balances, if any, before you close your seller account.
Please, add any questions, comments or complaint, you may have, in the comment section below.
Click to Rate This Company!