POF Login.
Learn how to register, log in, and solve common problems relating to the PleantyofFish.com (POF.com) dating website.
What is POF.com?
PlentyOfFish.com, or POF.com, is an online dating website, which boasts more than 100,000,000 registered users, making it the most popular full dating website in the world. The service is free to use, although a premium service is also available, offering paying customers a number of additional features and advantages.
The website initially launched back in 2003 and has grown significantly in subsequent years. Since 2010, PlentyOfFish has also had its own mobile apps for Android, iPhone and various other mobile and tablet devices. The service largely centres around a 'chemistry test' feature, which helps to match people with similar personalities.
How Do I Create a POF Account?
The process for creating a PlentyOfFish account is relatively straight forward and similar to many other websites of this type. The process begins by clicking on the 'Register' button on the website. To begin with, you will need to provide the following information:
POF Username – Your desired username for the website
POF Password – The password you would like to use for your account
Email Address – A valid email address, which you must have access to
Gender – Your gender, or the gender you identify yourself as
Birth Date – Your date of birth, for age verification and matching purposes
Ethnicity – Your ethnicity (Caucasian, Black, Hispanic, Indian, Asian, etc.)
After clicking continue, you will then be asked some more personal questions, which will be visible to other users on the site. For example, you will be asked for your marital status, whether you are seeking dates with men or women and some hobbies. On most questions, you also have the option of 'Prefer not to answer'.
Finally, you will be asked to answer some questions for the site's own internal chemistry test feature. This will help the website to find you suitable matches, based on your personality. In addition, you will then have the option of uploading a photograph. Once you proceed beyond this, you will have officially registered your account.
How Do I Log in to POF?
The POF login system is simple and easy to understand, meaning you should have no problem accessing your account. From the POF homepage, simply click on the 'Sign In' option and enter either your chosen Username, or the email address you signed up with, in the 'Username / Email' field. Then, enter the password you provided.
Although the login screen is fairly straight forward, there are a few things to keep in mind. Firstly, your username should be entered exactly as it was during the sign up process, paying careful attention to spelling. It is also important that you enter the password correctly as well, paying attention to upper case and lower case letters.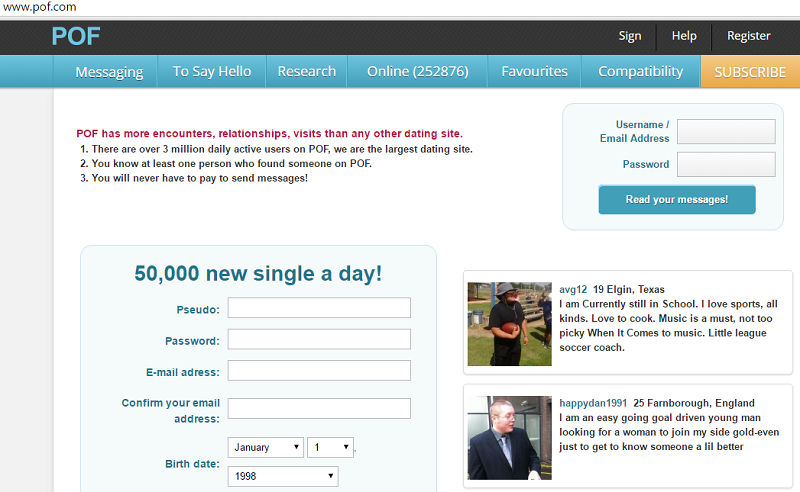 Troubleshooting – Why You May Have Problems Logging in to POF.
From time to time, users of PlentyOfFish do experience problems logging in and there are a number of possible reasons for this. The most common is that you have misspelled either your username or password, or you have entered your password with the CAPS LOCK function enabled, altering the case of your password.
Another possible explanation for login problems is that the POF service is experiencing technical difficulties. While this very rarely happens, when it does occur, users may find that they are unable to login properly, or that the page behind the login screen will not load fully. Technical problems are usually resolved very quickly.
Finally, it may be that your account has been suspended or deleted as a result of a violation of the terms of service. POF has a strict zero tolerance policy and users can be banned for a number of reasons, including using fake pictures, using abusive language, or sending obscene messages or photographs.
What to Do If You Have Forgotten Your POF Password or User Name.
If you have forgotten your username, it is actually still very easy to gain access to your account, as the POF login screen allows you to enter the email address you signed up with instead. If you gain access to your account this way, you can then retrieve your username by clicking on 'My Profile'.
Alternatively, if you have forgotten your password, an option entitled 'Forgot Your Password?' will appear under the main login box. In some cases, you may need one failed login attempt before this will appear. Once you use this option, your password will be reset and a temporary password will be sent to your email address.
If you do not see the email in your inbox, check your spam folder. If you still do not see it, your account may have been deleted or deactivated. Unfortunately, if you lose access to the email address you signed up with, your password will not be able to be retrieved and you will have to sign up again to continue using POF.
Resources.
Click to Rate This Company!