Yahoo Mail Login.
Your guide to signing in to Yahoo Mail. Get help with login problems, get password recovery help and learn how to sign up for a Yahoo Email account.
About Yahoo Mail (Ymail).
Yahoo Mail is a popular web-based email service, which is one of the largest of its kind, boasting more than 200 million active monthly users and billions of user accounts in total. The service was originally launched in 1997 and mobile apps are also available for mobile and tablet devices running either Android or iOS operating systems.
The standard service is free to use, while there are a number of more advanced options, including an ad-free service, which is intended for personal use, and a business service, which offers a number of additional features, including a personalised domain name. Both of these advanced services have set-up and subscription fees.
How Do I Create a Yahoo Mail Account?
For new users, the process of creating a Yahoo Mail account is similar to with other web-based email services and begins by visiting the Yahoo homepage and clicking on 'Yahoo Mail'. On the Yahoo login screen that follows, click on the link which says 'Don't have an account? Sign up'. This can be found towards the bottom of the screen.
On the next page, you will be asked to provide some basic personal information, including your name, date of birth and mobile phone number. Moreover, you will be able to select your desired Yahoo login ID, which will serve as the prefix for your email address, as well as your password for the service.
After clicking 'Continue' at the bottom of the page, you will be asked to verify your mobile number. Click on 'Text Me a Code' and a verification code will be sent to your phone. Enter the code on the page and then press 'Submit Code'. Your account will then be created. You can start using the service by clicking 'Let's Get Started'.
Yahoo Mail Login (Inbox).
How Do I Log In to My Yahoo Mail Account?
Once you have successfully created your email account, the Yahoo login process is fairly straight forward. From almost any page on the Yahoo website, including the homepage, click on either 'Mail' or 'Sign In' and you will be taken to the Yahoo Mail login screen. Here, the instructions are fairly self-explanatory. The direct url is https://login.yahoo.com/, and the mobile optimized login page can be found at https://login.yahoo.com/m.
In the first field, which will say 'Enter your email address', you need to enter the Yahoo ID you signed up with. You do not have to utilise the @yahoo.com or @yahoo.co.uk suffix, but you can if you wish. Click 'Next' and in the next field, enter the password you provided during sign-up and either press 'Enter' or click 'Sign In'.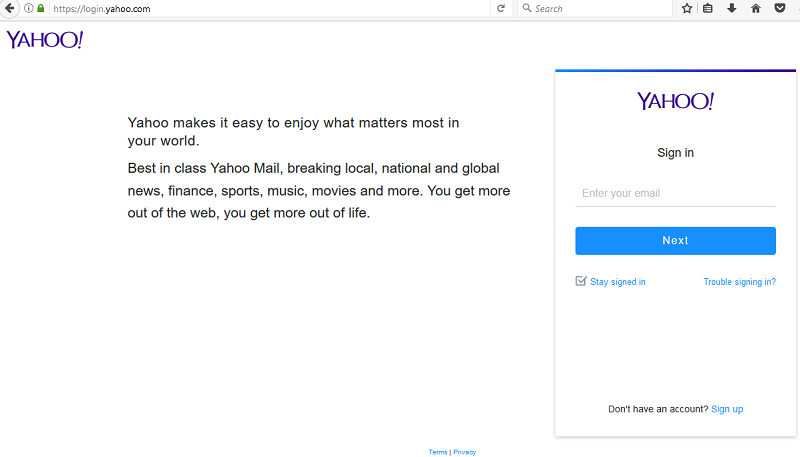 Www.Yahoomail.com and Ymail.com Login.
The older www.Ymail.com and www.Yahoomail.com login pages now will re-direct you to the login page at https://mail.yahoo.com. You can still enter www.Ymail.com or www.Yahoomail.com in your internet browser of course, and there is no need to change your saved Yahoomail or Ymail bookmarks.
UK and Ireland Yahoo Mail users have several options to choose from when logging in:
A mobile optimized Yahoo Mail UK page can be found at https://uk.mobile.yahoo.com/mail.
Alternatives can be found at https://login.yahoo.com/m?.intl=uk or the traditional https://login.yahoo.com and https://mail.yahoo.com login pages.
You can no longer create new Yahoo Mail accounts with the @Yahoo.co.uk email domain address. Only @Yahoo.com will work.
Common Yahoo Mail Login Problems.

Although logging in to Yahoo Mail is a relatively simple process, people do experience problems signing in from time to time. The most common explanation is that you have entered the wrong email address or password, or you have made a typing error. Passwords on the site are also case sensitive, so make sure CAPS LOCK is off.
If you have your browser set to auto-complete your password, but you have recently changed the password associated with your Yahoo Mail account, it is possible that you may experience some problems. Therefore, you should try switching auto-complete off to ensure you are manually entering your new password.
Depending on the type of account you have, it is possible that your account could have been closed due to inactivity. With the standard free email service, this occurs if you do not login to your email account for a period of 12 months or more. Unfortunately, when this occurs, your account cannot be recovered.
Finally, if you are sure you are entering the correct email address and password, and the account is still active, there is a chance that you have been the victim of hacking and the hacker has changed your password. The best solution to this is to follow the process described below for forgetting your password.
I have Forgotten my Yahoo Mail Password or Username. How do I recover them?

During the sign up process, and often when you log in, you will be asked to provide a backup email address or a recovery phone number. As long as you have previously provided this information, you will be able to either reset your password or receive confirmation of your Yahoo ID by using the 'Sign-In Helper' service.
On the main 'Sign In' page, simply click on 'Difficulty Signing In?' to begin this process. On the next page, you will need to provide either your mobile number, username or recovery email address. This must be the same mobile number, username or recovery email address you provided during the sign up process.
The service will then ascertain the best way to securely send you a new password, or your username.
Where Can I Download the Yahoo Mail App?
At present, the Yahoo Mail App is available on all mobile or tablet devices that are running either the Android or iOS operating systems. The App for Android can be found on the Google Play Store by searching for 'Yahoo Mail', while the App for iOS can be located in the same way through the Apple Store.
How Can I Contact Yahoo Help Customer Service?
If you have any other more advanced questions about your Yahoo Mail account, or any concerns about the service itself, it may be necessary to get in touch with Yahoo's customer service team. The best way to do this is to go to Yahoo Help Central, which can be found by clicking 'Help' on the Yahoo Mail login page.
From there, you will see a sidebar down the left hand side of the screen. At the bottom, click on 'Contact Us' and enter your Yahoo email address in the specified field. You can then proceed by pressing 'Get Started' and make direct contact with the Yahoo Mail customer service team.
Th direct link for Yahoo Help is here.
Select the product you need help with, for example Yahoo Mail.  Click the Contact Us link, if it is available.
Yahoo Mail Resources.
Click to Rate This Company!