POF Search.
Learn how to use the Basic Search, Advanced Search and Username Search options at POF.com (Plentyoffish.com). You can browse profiles even without registering.
POF Username Search.
New method: As POF.com has now disabled their Username Search function, the way to find a particular POF Username again is now different. You will need to find profiles that are indexed by Search Engine.
This is how you search for a username in POF:
1. Go to Google.com
2. In the search bar on Google enter: "username" inurl:viewprofile, and make a Google Search.
3. The results show the POF profiles that include this Username. Click on "Images" for an image search.
Example: If you are looking for an POF User, and you know the name starts with karen1, but cant remember the rest, then open Goolge.com and enter: "karen1" inurl:viewprofile and press enter. The results are the profiles that have the keyword karen1 in the username. If you still cannot find the profile, try searching for "karen1" inurl:member, instead.
You can also use the same search operators in Bing.com for similar results.
Old Method: How Do I Use the Advanced Search Option at POF.com?
One of the more in-depth features on the PlentyOfFish website is the 'Advanced Search' function and although it can seem daunting at first, due to the number of options, it is actually fairly easy to use. To access it, simply click on 'Search', then go to the 'Advanced Search' tab found just below.
Using this feature, you can look for users on POF based on your own parameters. For example, you can use the 'Religion' option to look for users who follow a particular religion, you can use the 'Height' option to look for users of a certain height, while the 'Age' option allows you to enter a range of ages to look within.
The information used in Advanced Search is taken from the user registration form. You can, therefore, use the Advanced Search to find users who meet one particular criteria, or multiple different criteria. This makes it much easier for users of the service to find people that are more likely to be a suitable match.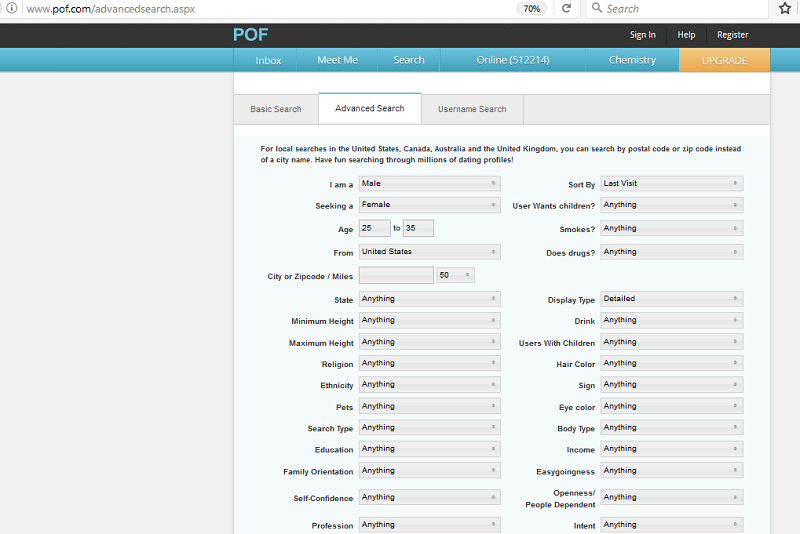 POF Username Search – Old Method.
Searching for a particular username is also very straight forward. You may have deleted a previous match or registered a new account and want to search for a username that you have previously connected with.
Easy:
Visit Pof.com and Sign In.
Click on 'Search'.
Then click on the 'Username' tab.
Enter the Username that you wish to find.
If you dont remember the complete username then don't fret. Try a partial match search. For example, searching for "Hotlover" will bring up all usernames that begins with "Hotlover", for example Hotlover01, Hotlovergirl, Hotlover1976 etc.
Using Plenty Of Fish Search without Registering.
It is entirely possible to use the plenty of fish search functions without registering on pof.com first, and without signing in first. POF.com enable Basic Search, Advanced Search and Username search for casual browsers, so do make sure that you do not put too much confidential and sensitive information in your profile.
To search without signing up, simply visitting www.pof.com and clicking on Search isnot enough. This will redirectly to the Registration Page only.
Instead, nvaigate directly to http://www.pof.com/advancedsearch.aspx in your browser, then click on either the Basic Search, Advanced search or Username Search tabs.
POF Resources.
Click to Rate This Company!