Onewalmart Login – Walmartone Login.
Login to Walmart One, Walmart's Associate website, to check your work schedule online, view company news, or to let your workplace know that you cannot come to work.
About WalmartOne.
WalmartOne, sometimes shortened to WM1, or OneWalmart, is an online service for employees and associates of the multinational retail company Walmart.
Through the service, associates are able to access company news and useful corporate information, while employees can access their current schedule, look for any available shifts and view their pay stub.
There are many similarities between WalmartOne and another management tool for associates called Walmart Wire. However, the key difference between the two is that Walmart Wire is only accessible by employees in the store, whereas WalmartOne can be accessed at work, home, or on the move via the website or mobile app.
How Do I Create a WalmartOne Account?
In order to create a WalmartOne account, you must be an employee or associate of Walmart and you must have already been allocated your own unique Walmart Identification Number (WIN). This number is given to each employee associated with the company and personally identifies you as an individual. If you do not already have a WIN, or if you are unsure of what your WIN is, you should contact your HR department.
Once you have your WIN, visit the WalmartOne registration page at: https://apps.walmartone.com/WALMARTOne/intro.do. For Asda employees, the homepage is: http://asda.walmartone.com instead. Alternatively, you can install and load the WalmartOne mobile app. From the home page, click 'Sign In', then click on the link labelled 'Register'.
Next, you simply need to follow the step-by-step instructions to register your account. The information you will need to provide is as follows:
Walmart Identification Number (WIN)
Date of Birth
Hire Date (Month and Year)
Personal Email Address
Once you have entered this information into the respective fields, review it to ensure everything is correct; especially your WIN. To complete the process, click on 'Submit' and then create a username and password on the screens that follow. These will be used to log in to the service in future.
ASDA Walmartone UK.
UK ASDA employees will need to log in from the Walmartone ASDA UK login page at http://asda.walmartone.com.
The Asda.Walmartone.com will automatically re-direct you to the correct login page.
You will then need to enter your ASDA Walmartone Username and Password, and choose "United Kingdom" from the dropdown menu under "C", before clicking on "Sign In".
Walmartone Login – Onewalmart Login.
How Do I Log In to My WalmartOne Account?
After registering for an account with WalmartOne, you can log in to the service visiting https://one.walmart.com. The www.walmartone.com webpage is no longer functioning, and then click on clicking 'Sign In' on either the website homepage (top right corner) or the mobile app. From there, all you have to do is enter the username and password you chose during the sign up stage and press the 'Login' button underneath.
It is worth noting that the WalmartOne login process is case sensitive, meaning that your password needs to be entered exactly as it was during registration, paying attention to upper and lower case letters. For this reason, it is important to make sure the CAPS LOCK function on your keyboard is off before attempting to log in.
One.walmart.com or www.Walmartone.com
In 2019, Walmart merged their Walmartone and Walmart Wire platforms, and renamed it as Walmart Onewire. However, as that brandname was already trademarked, Walmart had to revert to the WalmartOne name.
As a result, you can now log in to the Onewalmart Wire/Walmartone Portal from only the https://one.walmart.com website.
As a new Walmart associate, you will have to set up 2-step verification from the Walmart workstation within your Walmart store of work, before you can log in to Walmartone Wire from your home computer or mobile phone.
How Do I See My Work Schedule on WalmartOne?
Employees can check their schedules and look for any available shifts by logging in to WalmartOne either through the website or the online app and then clicking on the 'Schedule' option. There, you will have a number of scheduling options, including 'Today', 'This Week', 'Open Shifts' and 'Availability'.
As an alternative to this, Walmart have also recently launched an independent app, called 'My Walmart Schedule'. Employees and associates can log in on this app in much the same way as with WalmartOne and the options in the app include 'View Personal Schedule', 'Pick Up Unfilled Shifts' and 'Swap Shifts'.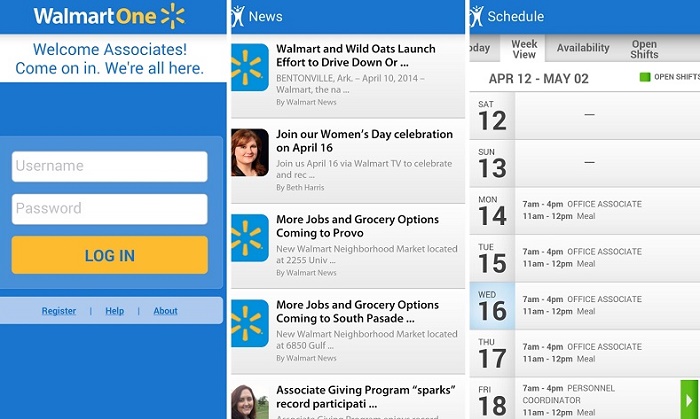 I Cannot Log In to My WalmartOne Account. What Could Be the Problem?
The most common problem for users trying to to log in to WalmartOne is incorrect login credentials, so make sure you have definitely remembered your username and password and have entered them correctly, paying attention to case sensitivity. Remember, you are entering your username, not your Walmart Identification Number.
From time to time, WalMartOne may undergo maintenance and these periods can make logging in difficult or impossible. When this occurs, the only real option is to try again later on. Generally, maintenance periods are relatively short, so you should not have to wait too long to gain access to your account.
Google Chrome and Mozilla Firefox are the two recommended web browsers for accessing the service. If you are having problems logging in and are using a different browser, try switching to one of those to log in.
If you continue to experience problems, call the service team on: (800) 530-9929.
I Have Forgotten My Walmartone Password. How Can I Reset It?
Another major cause of WalmartOne login problems is forgotten passwords. Fortunately, there is a solution. On the main login screen, click on the link near the bottom entitled 'Forgot Password?' and follow the instructions. A password reset link will then be sent to your email address.
Similarly, if you have forgotten your username, you can click on 'Forgot User ID?' from the login page and follow the instructions. Your username will then be sent to you via email. If you no longer have access to the email address linked to your account, contact the WalmartOne support team by telephone or email.
Where Can I Download the WM1 App and My Walmart Schedule App?
At present, both the WalmartOne (WM1) and My Walmart Schedule apps are only available on mobile devices running on either Android or iOS operating systems. The apps can be found on the Google Play Store for Android, or the App Store for iOS. To find them, you will likely need to use the search function.
It is important to note that the WalmartOne app is currently officially listed under the name "WM1", so you should search for that phrase on the mobile stores, as a search for "WalmartOne" may not generate any results. To find the My Walmart Schedule app, search for "My Walmart Schedule".
As the My Walmart Schedule app is still relatively new, it may not be available in all regions yet.
How Can I Contact WalmartOne By Phone?
If you have further problems, you may need to contact the WalmartOne support team for further assistance. The phone number for Walmart employees to call is: (800) 421-1362. For those who would prefer to contact support services via email, the email address to use is: [email protected]
How Do I Call in Sick to Walmart If I Cannot Work That Day?
Employees who are sick, or otherwise unable to attend a scheduled shift can call the The Walmart Associate Hotline and explain the situation. For employees in the United States, the numbers to call are either 1-800-775-5944 or 1-844-292-4796. Walmart employees outside of the United States will not be able to use these numbers.
Click to Rate This Company!