BibMe.
Learn how to use BibMe for citations and bibliographies. Register and login to BibMe.org to quickly and automatically create citations for your research paper.
What is BibMe.org?
BibMe (www.bibme.org) is a writing service, owned by Chegg, which automatically generates citations in recognised style formats. As a result, it is able to assist with the creation of references and bibliographies in academic texts and other written works. The citation generator tool is free to use, but a paid version with extra features is also available.
The service, which was initially launched back in 2007, allows users to search for books, academic papers and other sources, before automatically creating an accurate citation, which can then be exported. Users have the option of generating citations that adhere to all of the major academic style guides, including MLA, APA and Chicago.
How to Use BibMe to Make a Bibliography.
To create citations with BibMe, you should go to the homepage ( www.bibme.org ) and select the style of citation you wish to use (APA, MLA, etc.) from the options provided. Then, select the type of source (journal, website, book, etc.) you wish to cite and enter the relevant information in the field provided.
If you are citing a journal or book, you should enter the title or author. If you are citing a website or web page, you should enter the URL. Once you have entered the information required, click on the 'Search' button to the right, then find the source from the list provided and click the 'Select' button next to it.
The next page will display the information available to BibMe for the source you have chosen. Click on the button marked 'Final Step' and you will be able to amend this information, if necessary, or add any further information you have. This page also allows you to specify which part of the source you wish to cite.
When you are satisfied with the information provided, scroll down and click the 'Create Citation' button. The citation will then be displayed and you can copy and paste this into a word processor. If you have registered for an account, you will also have options to save your citations, or export them directly to Microsoft Word.
Which Styles and Formats Does BibMe Support?
At present, BibMe is able to automatically generate citations which conform to the following style guides or formats:
APA – The Publication Manual of the American Psychological Association
MLA – The MLA Style Manual and Guide to Scholarly Publishing
Chicago – The Chicago Manual of Style
Turabian – The Manual for Writers of Research Papers, Theses, and Dissertations
In addition, a range of other style guides and citation formats are available to users who register for the paid version of the service, which is called BibMe Plus.
How Do I Register for BibMe?
Registering for an account with BibMe and subscribing to the BibMe Plus plan will provide you with access to additional features and style guides, as well as an ad-free experience. The process for doing this is pretty simple and can be carried out from the site's homepage ( www.bibme.org ) by following these instructions:
Click on the link labelled 'Register', which can be found in the top right hand corner of the page, then enter your email address and desired password in the form that pops up. If no form pops up after clicking 'Register', you may need to disable any ad-blocking software installed on your device or web browser.
Your password must be at least six characters long and should include both upper and lower case letters, and at least one number. After you enter a valid password, you will then need to select whether you are a student, parent or teacher. If in doubt, click on the option for student. Then click the 'Create Account' button.
You can stop at this stage if you just want to register for a free account. However, to sign up for a paid account, with additional features, click on the 'Choose Plan' option and enter your payment details. Once you have entered those, click on the 'Purchase' button to complete the sign up process and gain access to BibMe Plus.
How Do I Log In to BibMe?
Once you have created an account, you can sign in as a returning user from the site's homepage. To do so, click on the 'Log In' option, which is found in the top right corner, next to the 'Register' button. Then, simply enter the email address and password you signed up with and click 'Log In' to gain access to your account.
It is worth noting that passwords on the site are case sensitive. For this reason, you should take care when entering your password and you should make sure the CAPS LOCK feature is switched off on your keyboard. To make things easier, you can click the 'Show' button on the password field, allowing you to see your password as you type it.
In the event that you have forgotten your password, the service has been set up with a simple solution. From the log in page, click on the link at the bottom, labelled 'Forgot Password?' and enter your email address on the form that appears. You may also need to enter a security code, which will be displayed on the page.
Once you have completed this form, you will be sent an email containing a link, which will allow you to reset your password. Simply click the link and follow the instructions to regain access to your account. If you cannot see the password reset email in your inbox, check your junk mail and spam folders instead.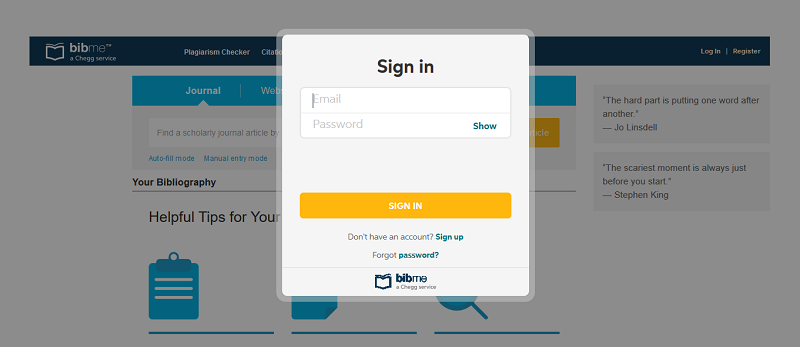 Please share your exoeriences with BibMe.org in the comment section.
Click to Rate This Company!