T-Mobile Login.
Sign in to the MyTMobile website, from a mobile phone or home computer. US, UK and Canada login and registration help. Quick soultions to the most common T Mobile login problems.
About T-Mobile.
T-Mobile is a telecommunications brand, owned by Deutsche Telekom, which functions as a wireless network operator and provides mobile phone services in the United States and various other parts of the world. It is recognised as one of the largest wireless carriers in the US, with more than 70 million customers.
Historically, the T-Mobile brand has also been active in the United Kingdom (where it is now known as EE), Germany (where it now operates as Deutsche Telekom) and various other parts of Europe. It remains active in Austria and the Netherlands. In the United States, T-Mobile also operates the MetroPCS brand after a 2012 merger.
What is MyTmobile?
MyTmobile, or My T-Mobile, is an online account for current customers, which allows you to control and manage aspects of your subscription services. Within your My T-Mobile account, you can view and pay your mobile bill, keep track of your data usage and contact members of the customer service team.
Furthermore, through your My T-Mobile account, you can make changes to the services you are currently signed up for, such as your data plan, and sign up for additional services from the brand as well.
How Do I Register For a MyTmobile Account?
In order to sign up for a My T-Mobile account, go to the My T-Mobile homepage (https://my.t-mobile.com) and click on the 'Sign Up' button. On the next page, you will need to enter some personal details, including your name, email address and T-Mobile phone number. You must also decide on a password to use for the service.
The password you select needs to be between eight and 50 characters in length, must include at least one number and at least one letter, and cannot include spaces or certain special characters.
Once you have completed the sign up form, click 'Next'. An authentication code will then be sent to your mobile device and you will need to enter this on the page that appears. Click 'Next' again and follow the on-screen instructions to complete the sign up. You can also sign up using the T-Mobile app, in much the same way.
It is worth noting that, after activating a T-Mobile service, resuming a service, or changing your mobile number, there is a compulsory 72-hour waiting time before you are able to register a new T-Mobile ID.
The direct link for US Registration can be found here.
For UK customers, navigate here in order to register.
How Do I Log In to My T-Mobile Account?
After you have registered for your T-Mobile ID, the process for logging in to My T-Mobile is fairly easy. To start with, go to the My T-Mobile homepage ( https://my.t-mobile.com ) and on the left hand side of the page, you will see a form under the heading 'Log In With T-Mobile ID'.
In the first field, enter either your T-Mobile phone number, or the email address you provided during your account registration. Then, in the password field, enter the password you chose. From there, simply click on the 'Log In' button underneath and you should be signed in to your My T-Mobile account.
USA T-Mobile customers can go directly to the T-Mobile Login page, here.
UK T-Mobile customers, can log in here.
German T-Mobile customers can sign in here.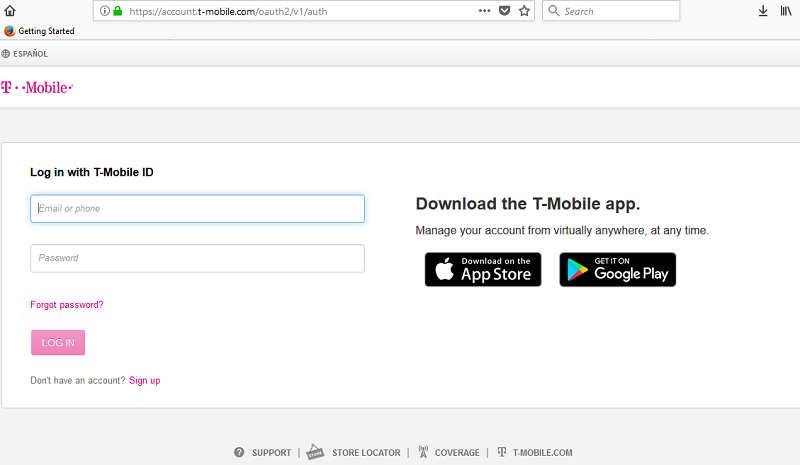 Common T-Mobile Login Problems.
From time to time, it is possible that T-Mobile customers may encounter difficulties when attempting to sign in to My T-Mobile. Fortunately, most of these issues have a simple explanation, so it is merely a case of identifying the cause of the problem and working through the corresponding solution.
The first and most obvious thing to check is that you are definitely entering the right login credentials. Pay attention when entering your mobile number or email address and look out for any typing errors. If you are having no luck while trying to sign in with your phone number, try your email address instead, and vice versa.
It is also important to keep in mind that passwords are case sensitive, so you should take care when using upper and lower case letters and make sure the CAPS LOCK function is switched off on your keyboard. Remember, your password is between eight and 50 characters in length and will contain a combination of both letters and numbers.
As with other online accounts, it is somewhat inevitable that users may forget their password. Fortunately, My T-Mobile has been designed with this in mind and a password reset function is available. On the main login screen, simply click on 'Forgot Password?' and follow the instructions to be sent a temporary password. You will then have the option of choosing a new password once you are signed in to your account.
On rare occasions, there may be issues with the T-Mobile website itself, which can make signing in impossible. Unfortunately, when this occurs, the only real option is to wait for the problem to be resolved and try again later.
If you continue to experience issues, try clearing your web browser's cache and cookies before trying again, or try signing in using 'Incognito' mode. If that does not resolve the problem, you could try using a different browser, or a different device. It may be worth downloading the T-Mobile app and trying to sign in with that instead.
What are your experiences with T-Mobile and the MyTMobile portal? Share complaints, praise or tips in the comment section.
Click to Rate This Company!