Juno Email.
Login safely to Juno's free "Juno Email on the Web" service. Full webmail login and sign up guide, solutions to the most common login problems, as well as all Juno's customer service contacts.
About Juno Webmail.
Juno Email is a free email service provided by Juno; an internet service provider, based in the New Jersey in the United States. The company, which is a subsidiary of United Online, was originally established back in 1996 and launched its email service the same year, initially requiring users to install specialist client software.
Today, Juno's email product has evolved to become a more typical modern webmail service, requiring no software downloads, although client software is still available for those who wish to use it. The free email offering provides 1GB of space, but has a 60 day inactivity policy. Various paid options are also available, providing extra features.
How do I Register for a Juno Email Account?
Registration for a free Juno email account is relatively simple and can be carried out from the My Juno homepage, which can be found here. From that page, click on the button marked 'Sign In to Email' and on the next page, click on the orange button, which is labelled 'Create a New Account'.
The next stage is divided into two sections. In the first, you will need to enter your personal information, such as your name, address, date of birth, occupation and a backup email address, which will be used for security purposes. You will also need to select a Member ID and password for use with the service.
Your Member ID must be 3-30 characters in length, while your password needs to be 6-12 characters long and may contain letters or numbers. After selecting your Member ID, you can click on the 'Check ID Availability' button to make sure your choice of username is not already in use. Assuming it is available, continue with the form.
Once you have entered all of the required personal information, tick the box acknowledging the terms and conditions, and click on the 'Submit and Continue' button. This will then take you to the second stage of the process, where you will be able to download the client software, if you wish, or sign up for a web domain.
Upon completing this section, your account will be created and you will be able to log in.
How do I Log In to my Juno.com Webmail Account?
After you have created an account with Juno, you can log in by visiting the aforementioned My Juno page and then clicking the 'Sign In to Email' button. Alternatively, you can skip this step by clicking here.
From there, enter your User ID and click 'Next', then enter your password and click the 'Sign In' button.
During this process, you may also be required to enter a security code, in order to prove you are a human, rather than a bot. With this, you simply need to re-enter the code that is displayed on screen. Prior to clicking the 'Sign In' button, if you are not using a shared computer, you may also wish to check the box labelled 'Keep Me Signed In'.
A dedicated "Juno Email on the Web" sign in page is located here. With Juno Email on the Web, you can read and write emails from any Internet-connected computer anywhere in the world.
If you are looking for Juno's Mobile optimized login page, then it can be found here.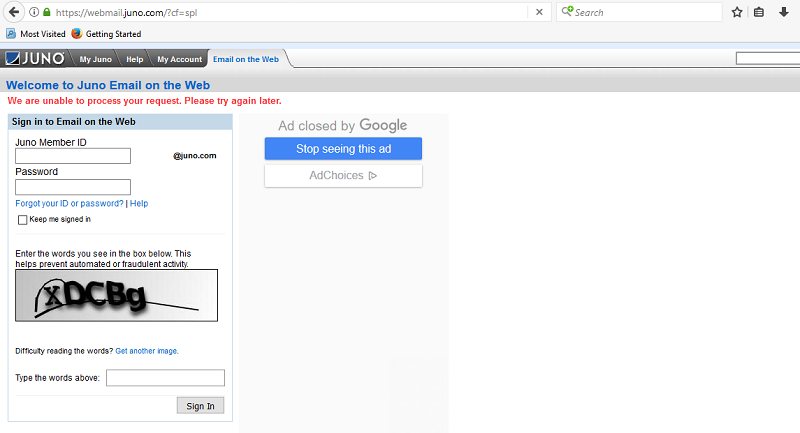 Common Juno Login Problems.
From time to time, users may encounter certain issue when attempting to log in to their Juno account. In most cases, however, there is a simple explanation and the problem can be easily resolved.
One of the most common problem are inaccurate login credentials, so make sure you are definitely entering the correct User ID and password combination. Pay particular attention to your password, as this will be obscured for security reasons when you enter it. Passwords are case sensitive, so take care when using upper case or lower case letters.
Another frequent issue involves users forgetting their own password. When this occurs, click on the 'Forgot Password?' link on the main login page. You will need to enter your Member ID, your ZIP or post code and answer a security question. Then, you will be given the option of choosing a new password to replace the forgotten one.
Every now and then, the Juno servers may experience issues, or the service may be unavailable due to scheduled maintenance work. This is extremely rare, and when it does occur, it will usually be short-lived. In the event that this does happen, you will have to try again later on, once the service is back online.
The 60 day inactivity rule for free accounts means that any email address that is not used for a 60 day period will be closed down. If this applies to you, this is likely to be the explanation for your login issues and unfortunately, it is irreversible. You will be able to register for a new account, but the old address and all mail will be lost.
Finally, some users have reported issues with accessing their inbox when using certain ad-blocking software or anti-virus software. When this transpires, the best solution is either to disable the software temporarily, or set up a special permission within the software, so that pop-ups are allowed.
How much does Juno Webmail cost?
The basic Juno email service is free. You can upgrade to Juno MegaMail and Juno Megamail Plus from 21.95$ per year.
With the Juno MegaMail package, you will get:
2GB of email storage
Space for 10000 contacts in address book
50 Sort and Delete settings
Mail Forwarding
External POP retrieval.
Option to Juno email with an outside programs like Outlook Express.
1500 Block List
How can I Contact Juno Webmail's Customer Service?
If you have any further questions, or if you continue to experience problems with the Juno service, it may be necessary to contact the customer service team. The best way to do this is through the dedicated technical support form, which can be found by clicking here.
That page also provides information about the various telephone customer service options that are available to Juno users. Telephone support is available from Monday to Friday, between the hours of 9am and 9pm ET.
If you have problems with your Juno Internet connection or DSL connection, or if you have questions about your account, you can call Juno's customer service on 1-800-654-5866.
Please share your experiences with Juno in the comment section below.
Click to Rate This Company!