RoadRunner Email Login.
Sign in to your Roadrunner Webmail account from a PC or from a mobile phone. Learn how to sign up and register for a new Roadrunner Email account, login to an existing Roadrunner Webmail account, and learn to solve common login problems.
About Roadrunner Email.
The RoadRunner email service is a free webmail service, which is provided to certain Time Warner Cable Internet customers. Prior to using the TWC name, the company's broadband services were marketed under the RoadRunner brand and customers during this period were provided with RoadRunner email addresses.
During that period, the company had an association with Warner Bros. but that affiliation came to an end in 2012. In 2016, Time Warner Cable was purchased by Charter Communications, who re-branded their internet services under the 'Spectrum' name. Through the Spectrum service, RoadRunner customers are still able to access their accounts.
Roadrunner Email Sign Up.
How do I Sign Up For a RoadRunner Email Account?
Customers can register a new email address by visiting the Spectrum login page ( https://www.spectrum.net/login/ ) and logging in to 'My Account' using an existing Time Warner Cable ID. If you do not currently have a TWC ID, but are a current customer, you can create one by clicking on the 'Create Username' link on the right hand side.
Once you have successfully signed in to the 'My Account' section of the website, click on the 'My Internet' tab and then find the 'Email' section. Here, you need to click on 'Create Email Address' and follow the on-screen instructions to create a new email address and account.
Users also have the option of creating multiple sub-accounts, so that all members of a household can have their own email address. To do this, go to the 'Subscriber Self Care' section, then click 'Create New Sub User' and fill in all of the relevant information. Sub user accounts may take up to five minutes before they become active.
It should be noted that most customer subscription plans allow for a maximum of seven email addresses. Once the maximum limit has been reached, the 'Create New Sub User' option will no longer appear.
Roadrunner Webmail Login.
How do I Log In to my RoadRunner Email Account?
If you have an active RoadRunner email account, you can log in and gain access to it by visiting the main RoadRunner website (https://webmail.roadrunner.com/). Alternatively, you can still use the URL for the RoadRunner RR.com webmail service located at https://www.rr.com. This page will re-direct you to the new current TWC Spectrum webmail login url, found at https://mail.twc.com/.
From there, simply enter your email address into the first field, your password into the second field and then click the 'Log In' button underneath. If you are using a personal computer, which you do not share, you may also wish to check the 'Remember Email Address' option, as this will make the sign in process quicker in future.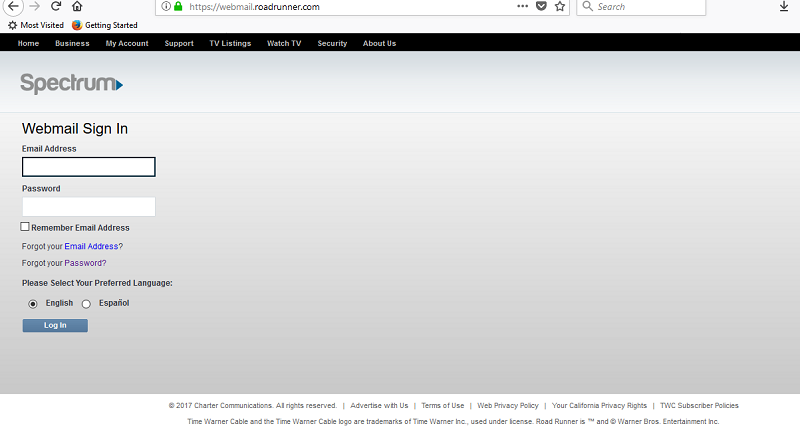 FAQ – Common RoadRunner Email Login Problems.
Although the sign in process itself is easy, some users occasionally encounter issues when attempting to access their RoadRunner email account. Fortunately, most of these problems have a simple solution, so it is just a case of identifying what is causing the issue. This may require some trial and error.
By far the most common problem is users entering the wrong login credentials. Double check that you have entered both your email address and password correctly, without any typing errors. Passwords are case sensitive, so take care with your use of upper case letters and make sure the CAPS LOCK on your keyboard is set to the 'Off' position.
If you have forgotten your email address, you can click on the link marked 'Forgot Your TWC Email Address?' underneath the login form and follow the instructions. You will need to enter your phone number and the address will then be sent to you via SMS. Then, all you need to do is enter this email address into the first field.
Similarly, in the event that you have forgotten your password, click the 'Forgot Your TWC Password?' link, then click 'I Don't Know My Email Password'. You will be taken to "Roadrunner's Email Password Reset Tool" page. By following the instructions and entering your email ID and a verification code, you will be able to reset your password and regain access to your account.
If you are having issues accessing the login page itself, you could try using one of the other URLs. For instance, if you have tried to visit https://ww.rr.com, you could try either the https://www.spectrum.net/login address, or the https://webmail.roadrunner.com address instead to see if that resolves the problem.
Alternatively, you could try deleting cookies and clearing your web browser's cache and history, before trying again. If this does not fix the issue, it may be worth trying a different web browser or, if possible, a different device.
On rare occasions, however, the email service may be offline, either as a result of server problems, or because of scheduled maintenance work. When this transpires, the only real option is to try again later on.
RoadRunner Webmail Phone Numbers and Help.
Should you continue to experience problems with registering for an account or logging in, or if you have any questions or complaints, you may need to contact the RoadRunner webmail customer service team. The best phone number to use for customer service and general support is: 1-800-892-4357
An email help page, covering various different topics, can be found by clicking here.
Alternatively, a live chat function is available for those who want instant support, but would prefer to avoid the phone. To access this, click here, then select the 'Chat With Us' option, followed by 'Chat Now'.
Please share your complaints or experiences with the Roadrunner Webmail service, below this article.
Click to Rate This Company!