ATT.net Email Login and ATT Uverse Login.
Sign in to your ATT Email, myATT or ATT Uverse account from your home computer or mobile Phone. Full login guide, as well as detailed answers to the most frequent login and registration problems.
About AT&T Mail.
AT&T Email is a free webmail offering for customers of AT&T and its subsidiaries. It provides AT&T and AT&T Uverse customers with a personalised email address and the ability to access it from any web browser. AT&T is widely recognised as the largest telecommunications provider in the world, offering internet, television and phone services.
Previously, AT&T Uverse was a key subsidiary, available in more than 20 states, which provided broadband, phone and television services, although this brand name has been phased out and is now only linked to its IPTV service. Previously, AT&T Webmail had ties with Yahoo, although those ties were cut after Yahoo was sold to Verizon.
How do I Register For an AT&T Email Account?
In order to create an AT&T Email account, you will need to create an AT&T Access ID. This can be achieved from the AT&T homepage ( www.att.com ) by clicking on 'Sign In' in the top right hand corner, then clicking on the link labelled 'Don't have an ID? Create one now'.
An AT&T Access ID is only available to existing customers. To create your ID, you will first need to link your AT&T account to it. Therefore, on the first page of the sign up form, you will need to provide the following information:
Your AT&T phone number or your AT&T account number.
The ZIP code associated with your account.
Once you have entered this information, complete the security code check and then click on 'Continue'. On the next page, you will decide on your AT&T Access ID and password. Simply follow the instructions on the page to complete the sign up process and create your new account.
Alternatively, you can simply click here to create an ATT Email account with your Wireless Number, or here to create a AT&T ID with just your phone number.
How do I Log In to my ATT Email Account or ATT Uverse Account?
Once you have created a new account, the AT&T Email login process is fairly easy. To sign in, go to the AT&T homepage and click on the 'Sign In' button in the corner.
Alternatively, click here to access the direct mobile optimized login page.
A second valid login page (that allows you to sign in with just your email address) can be found here.
From there, enter your User ID in the first field, then enter your password in the second field and click 'Sign In'. If you are using a personal computer, which you do not share with others, you can also check the box marked 'Save ID' to make this process even quicker in future.
All old ATT Mail accounts and Uverse accounts are has now been unified under the 'MyATT' brand.
ATT Uverse Login.
It is worth noting that the old AT&T Uverse login page at http://uverseonline.att.net/ has been removed, but Uverse customers can sign in using the address at Att.com.
ATT Yahoo Login.
Similarly, the old Yahoo! Mail link ( http://att.yahoo.com/mail ) is now inactive, due to the association between Yahoo and AT&T ending. This will now redirect to the standard AT&T login page instead.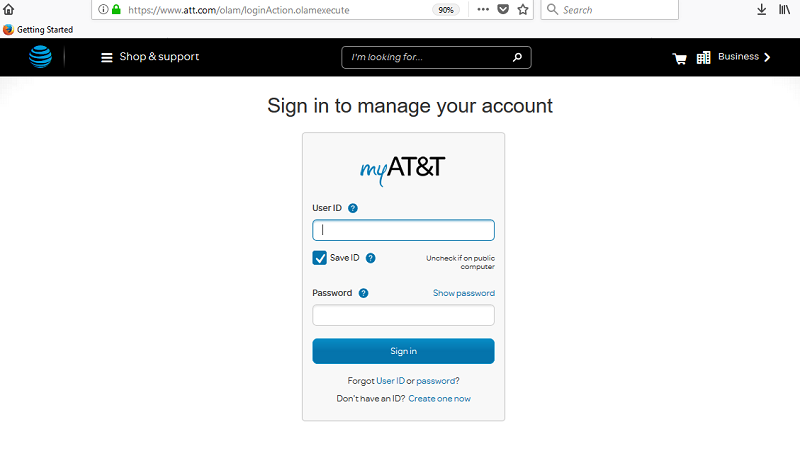 I Cannot Log In to ATT: Common AT&T Login Problems.
As is the case with virtually all webmail services, users will occasionally encounter problems when attempting to log in to their AT&T account. Thankfully, most of these problems have a common cause and a quick fix, so it is merely a case of identifying the specific issue and working through the corresponding solution.
The first and most obvious thing to check is that you have definitely entered the correct AT&T or AT&T Uverse login details. Pay close attention to your spelling and check for any typing errors. Take special care when entering your password, because this will be obscured for security purposes as you type it.
It is important to remember that your password for the service is case sensitive, so you need to ensure upper and lower case letters are utilised in the right place. For this reason, you should double check that the CAPS LOCK function on your keyboard is turned off. Similarly, you should turn of NUM LOCK as well.
One of the most common reasons why users experience login problems is because they have forgotten either their User ID or password. However, even this has a simple solution. On the login screen, underneath the two main fields, there are two options labelled 'Forgot User ID or Password?'. Click on the relevant option and follow the instructions to either reset your password, or receive a reminder of what your User ID is.
If you are sure you are entering the right information, but are still having difficulties, you should try clearing your web browser's cache and deleting cookies before trying again. If that does not resolve the problem, it may be worth trying a different web browser, or a different device entirely to see if that fixes the issue.
For mobile users, a mobile app is also available, and it may be easier and more sensible to attempt to sign in through this. The sign in process is much the same and the app itself can be downloaded on Android or iOS.
Please share your experiences, or problems, with the ATT Email or Uverse service, below.
Click to Rate This Company!