How to Delete a Twitter Account.
Learn how you can delete your Twitter.com account permanently, including deleting all tweets, images, followers and likes, and how to delete older Tweets.
If you have stopped using the service, are experiencing problems, or are looking to take a break, you may wish to delete Twitter. To do this, you will need to:
Sign in to Twitter on a computer, or from your mobile device's web browser, as you cannot currently delete Twitter accounts from within the app.
Once you have signed in, click on your profile picture near the search bar.
Click on 'Settings' on the menu that appears.
Then, click on 'Deactivate My Account' and follow the instructions. You will need to re-enter your password.
Within a few minutes, Twitter will remove your profile and all associated activity from their website and your Twitter page will no longer be accessible to other users.
However, your account will not be permanently deleted until 30 days after you deactivated it and you must not sign in to the account during that period. If you sign in, the account will be reinstated.
If you change your mind about deleting your account within the initial 30 day window, all you have to do is sign in to your Twitter account in the usual way and it will be fully restored.
After the 30 day window, if you did not sign in, your account will be permanently deleted and your old username will become available to new users.
All tweets, images, followers and likes will be deleted from Twitter's servers, though the profile, status updates and tweets may still be cached by some web search engines, like Google and Bing for some time thereafter. These search engines are independent from Twitter, so deleting a Twitter account may not immediately remove the account content and history from the public eye.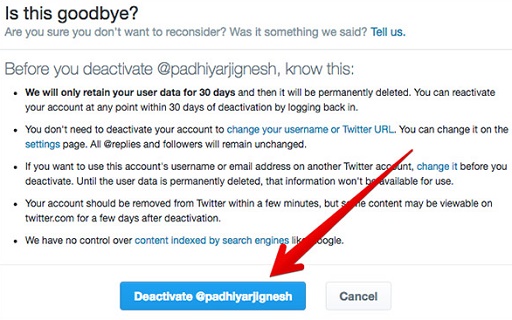 How to deactivate a Twitter account.
There is option to deactivate your Twitter account indegenitely. Ayou can, however, deactive your account for 30 days, while it is being held in a queue for deletion.
To deactivate your Twitter account:
Sign in to www.twitter.com online.
Go to Account settings and cdind Deactivate my account at the bottom of the page, and click on it.
Read the information. Click Okay, fine, deactivate account.
Enter your password when prompted and verify that you want to deactivate your account.
"Deactivating" your account simply puts your Twitter account in a queue for permanent deletion. Please note that you cannot deactivate your account from mobile devices/phones, but must be completed via twitter.com on the web.
How to delete a Tweet.
If you only want to delete an older tweet, but not the whole account, then that is simple too:
Visit your Twitter Profile page and log in.
Locate the Tweet you want deleted.
Click on the icon.
Click om 'Delete Tweet'.
If you wish to delete ALL tweets, but keep the account open, then Web tools like TwitWipe, TweetDelete, and Delete All Tweets will permanently delete the last 3200 tweets from your account.
Click to Rate This Company!