Frontier Mail.
Access your Frontier Mail account, or Frontier Yahoo Mail account, and learn how to fix common login problems, and reset your Frontier Mail password.
About Frontier Mail.
What is Frontier Mail?
Frontier Mail, also known as Frontier Webmail, is an email service that was offered to the internet customers of Frontier Communications. The company itself is an internet, telephone and pay television company, based in the state of Connecticut in the United States. Over the years, Frontier has primarily served rural areas of the country.
Frontier Mail email addresses are no longer made available to new internet service subscribers, but the accounts for existing users who have an email address ending in @frontier.com, @frontier.net or any related domain name can still be accessed. However, access does rely on your email address being linked to a Frontier User ID.
Frontier Email Sign Up.
How do I sign up for a Frontier Email address?
To sign up for a new Frontier Email account, you will need an existing Frontier.com or Frontier.net email address and it will need to be connected to a Frontier ID. If you have not yet created a Frontier ID to use with your email address, you can do so by visiting the following URL: https://frontier.com/register
At the end of the registration process, you will receive a confirmation email and it is essential that you click the link within this email to verify your email address and complete this stage of the process.
Once you have a Frontier ID connected to a main Frontier email address, you can create additional accounts by opening the Frontier Account Editor, found at: https://security.frontier.com/acctedit
From there, enter your main Frontier Mail login details, then press 'Enter'. Once you have signed in, select the option labelled 'Additional Email Addresses' and you should find options to add and remove email addresses. To add an email address, you will need to select a unique email address and password combination.
Frontier Mail Login.
How do I log in to my Frontier Email account?
The main Frontier Email login page can be found at: Https://login.frontier.com/webmail.
Alternatively, you can visit the Frontier Mail powered by Yahoo homepage at: https://frontier.yahoo.com/ and then click on the 'Mail' icon in the top right corner of the page.
Once the page loads, enter your full Frontier Mail email address into the 'Email Address' field, then enter your password into the 'Password' field and click 'Login'. You will be able to use any email address that falls under the Frontier Mail umbrella here, including those ending in:
@frontier.com
@frontiernet.net
@citilink.net
@epix.net
@gvni.com
@newnorth.net.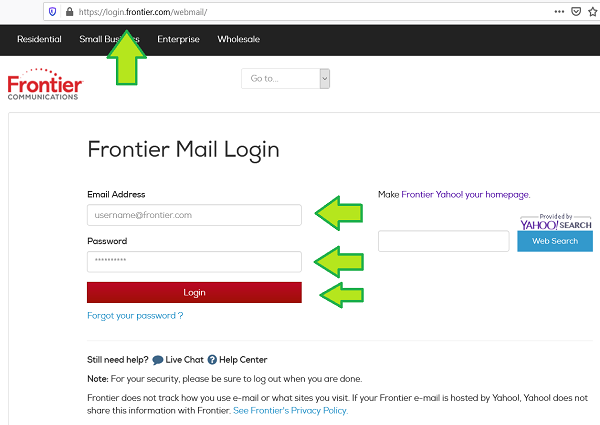 Frontier Mail Login Problems.
I cannot log in to my @frontier.com mail account. What could the problem be?
If you have difficulties signing in to your Frontier Webmail account, the first thing to check is that your internet connection is definitely working. The easiest way to do this is just to visit any other web page. If it loads, the problem is not with your connection. If it does not load, it is likely that your connection is the issue.
You may also want to try signing in with a different device, such as a mobile phone, or a laptop. If you are able to gain access using another device, it would suggest the problem is with the device you were using.
Try logging in in 'Incognito' or 'Private' mode in your browser, as this will bypass certain cache and cookies problems.
Similarly, you may wish to try using a different web browser, updating your current web browser, or clearing your cache and cookies. Popular web browsers that should work with the service include Firefox, Chrome, Safari, Edge and Internet Explorer.
Disable ad blocking software, and browser add-ons & plugins, specifically for the Frontier Mail website. Typixally, ad blockers will add code into your inbox in order to block ads. This can impact email functionality. You can unblock ads inside Yahoo Mail to avoid those issues.
The next step is to make sure you are typing your login credentials properly. Double check both the email address and password you have entered. Pay particular attention to any unnecessary spaces at the beginning or end of your password. Your password is also case sensitive, so keep this in mind and make sure CAPS LOCK is set to 'off'. Accepted email address suffixes are: @frontier.com, @frontiernet.net, @citilink.net, @epix.net, @gvni.com and @newnorth.net.
I Have Forgotten My Frontier Password.
I have forgotten my password. How can I reset it?
If you have previously set up a recovery email address for use in an emergency, you can reset your password by visiting: https://acctedit.frontier.com/forgot-password.
From there, enter your Frontier email address in the field provided and check the reCAPTCHA box labelled 'I am not a robot'. Using this method, a link will be sent to your recovery email address. All you then need to do is sign in to that email address, open the email from Frontier Mail, click on the link and follow the instructions.
If, on the other hand, you do not have a recovery email set up, or if you no longer have access to your recovery email account, you will need to call the customer service team instead on: 1-800-239-4430.
Frontier Email Settings.
What are the Frontier Email server (SMTP, IMAP, POP3) settings?
If you intend to access your Frontier Mail account through email software, you will need to know the incoming and outgoing server settings.
To set up your email software to work with your Frontier email account, you need to know the Incoming and Outgoing Server settings. The exact settings to enter are as follows:
Incoming Mail Server (POP3): pop3.frontier.com
Outgoing Mail Server (SMTP): smtp.frontier.com
Username: The prefix of your email address, before the @ symbol.
Password: The password associated with your email address.
Secure Connection (SSL)? Yes.
Frontier Yahoo Mail.
Is Frontier powered by Yahoo?
A partnership agreement between Yahoo and Frontier means that Frontier Mail is powered by Yahoo. In fact, a Yahoo-branded home page can be found at the following URL: https://frontier.yahoo.com/
If you use this particular web page, you can access your email account by clicking on the Mail icon.
Frontier Email on Android Phones.
How do I set up Frontier Mail on my Android mobile phone?
You can set up your Frontier email account on an Android device by going to the main device 'Settings' and then choosing 'Accounts'. From there, click 'Add Account', followed by 'Email' and then 'Yahoo'. Enter your full Frontier Mail login credentials, agree to the terms and conditions and then select 'Sign In' to complete the set up process.
Frontier Email on iPhone.
How do I Set Up my Frontier Email account on an Apple iPhone, iPad, or iPod Touch?
To set up your Frontier email account on an iPhone, iPad or similar device, go to the 'Settings' menu and then select 'Accounts and Passwords'. Click on the 'Add Account' option, followed by 'Yahoo'. Then, enter your full Frontier Mail login credentials. Finally, click on the 'Sign In' button to complete the process.
My Frontier Yahoo Mail Account Has Been Hacked.
These are the signs of a hacked account:
You are not receiving any emails.
Your Frontier Mail account is sending spam to your contacts.
You see logins from foreign locations on your recent activity page.
Your account info or mail settings were changed.
If you cannot access your Frontier Mail account, then reset your password, using the procedure described above.
Hackers often change the settings in your Frontier Mail account to get copies of your emails. If you suspect that your Frontier Mail account has been hacked, then check some of these settings:
Email filters – Have new filters been created?
Sending name – Has your sending name has been changed?
Email signature – Has your email signature been changed?
Reply-to address – Ckect that replies to your emails are going to the correct inbox.
Send-only address – Has a Send-only address has been added or changed?
Vacation response – Have unfamiliar automatic replies been set up?
Default sending address – Check that the address that pre-populates in the "From" field is correct.
Blocked addresses – Make sure that vital adddresses have not been blocked.
Auto-forwarding address – Is your email being forwarded to unfamiliar email addresses?
Frontier Internet Customer Service Contacts.
How do I contact Frontier's customer service department?
One of the fastest ways to reach the customer service team is through the online live chat support, which can be found at: https://frontier.com/contactus/contact-us#/residential
From that page, click on 'Chat Live' and then you will be able to communicate to a rep via the chat feature.
Alternatively, the main customer service phone number is: 1-800-921-8101.
The technical support and password help phone number is: 1-800-239-4430.
And you can pay your Frontier bill over the phone by calling: 1-800-801-6652.